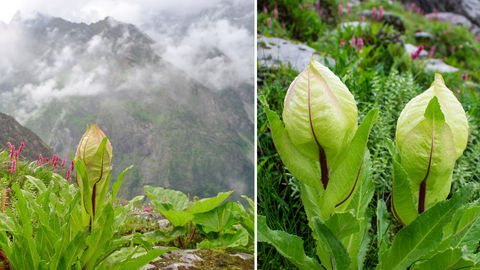 The Brahma Kamal or Saussurea Obvallata flower is so rare that most of us might not know much about it. However, today we bring to you not just some information, but also a few pictures of one of the rarest Himalayan flowers that belong to the thistle tribe of flowering plants and blooms for just one night every year. By Kumar Shree
View this post on Instagram
The King of the Himalayan Flowers, Brahma Kamal deserves this title in every sense. Apart from being one of the rarest Himalayan flowers, the Brahma Kamal has many unique properties. Did you know, it is known to bloom only after sunset? Luckily, the flower has been recently spotted in the upper regions of the Himalayas in Uttarakhand.
View this post on Instagram
Multiple photos and videos of these flowers have come out from the Chamoli district of Uttarakhand. While people are marvelling at the beautiful photographs and videos of Brahma Kamal, scientists, on the other hand, are surprised. They are trying to find out how these flowers are still blooming in October when the usual season is July to August. The only comprehendible reason could be that lesser tourism and pollution levels might have proved to be a boon for these flowers.
View this post on Instagram
Another surprising matter is the altitude at which these flowers have bloomed. Usually, these flowers bloom at anywhere between 3,500 m to 4,800 m, but this time the blooms have been spotted as low as 3,000 m, which is another unusual element.
View this post on Instagram
Brahma Kamal has been named after Lord Brahma. The flower that is considered to be a symbol of good luck and prosperity takes up to two hours to bloom completely. They can blossom up to eight inches in diameter and remain in full bloom state for only a few hours.
View this post on Instagram
Many Tibetan people use these flowers to make medicines and other remedial derivatives. Residents of Uttarakhand also use them to make ayurvedic pastes for healing wounds.
Related: This Farmer From Wisconsin Has Planted Two Million Sunflowers During The Pandemic! Check Photos…
Written By