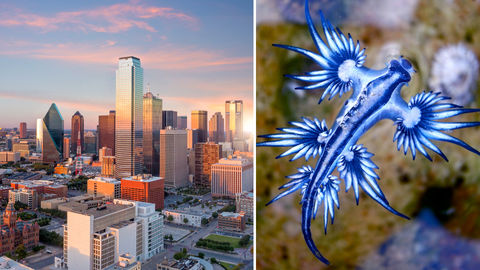 Editor's note: The global COVID-19 crisis has left each one of us deeply affected and we want to help. Burda Media India has organised a fundraising campaign to #FightBackWithTesting and donating RT-PCR test kits to the worst-affected areas in India, which will be secured from our testing partner Mylab Discovery Solutions. You can help these kits reach many more by donating for the cause or by adopting a kit. Click here to join the fight.
Mother Nature is full of beautiful and extraordinary things. From time to time, one can witness unusual beings that often leave us in bewilderment. The tiny, beautiful and rare blue dragons seen at the Padre Island National Seashore in Texas, USA are one such creature of nature. By Upasana Singh
At the Padre Island National Seashore, Texas, a seven-year-old boy on vacation discovered a little blue creature. In a matter of minutes, he saw four more of them washed up on the shore. After a quick Google search, the boy with his family found out that they are known as blue dragons or glaucus atlanticus.
View this post on Instagram
Commonly referred to as a sea swallow or blue angel, the sea creature is a species of small, blue sea slug that resemble miniature dragons, hence its name. Although these dragons cannot breathe out fire or fly, do not be fooled by their size. The national park located in Padre Island took to Facebook to share the story of this discovery and drop a note of caution. Part of the post said, "if you see a dragon in the park, be amazed as they are a rare find, but also keep your distance!" Two images of the mesmerising creatures with blue and silver colouring were also shared on the social network.
According to experts, blue dragons are about three-cm big and feed on pelagic creatures like the jellyfish-like Portuguese man o' war. After eating, they store their prey's stinging cells in their 'fingers' as armour for later use against adversaries. So, people are advised to stay away from them as, despite their harmless exterior, they can deliver a mean, stinging bite.
View this post on Instagram
Typically found in the Atlantic, Indian Ocean, and the Pacific Ocean, as reported by the Chron.com, a representative for Padre Island National Seashore said, "It is rare to see them. They are very small and spend their lives floating in the open ocean. It's not until the wind or currents wash them onto a beach that people spot them."
It is fascinating to see and know more about the existence of dragons that are very much real and not a product of fiction. As some people commented on Facebook, the blue dragons are "lethal, yet lovely."
Related: Thanks To The Lockdown, Olive Ridley Turtles Can Now Be Seen In Goa As…
Written By