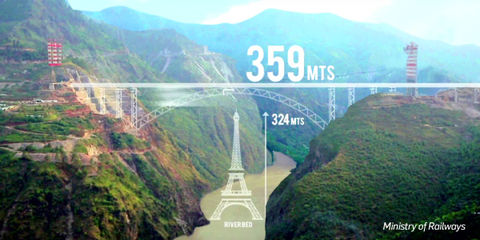 India is soon going to get the world's highest railway bridge in Jammu and Kashmir. The structure – that is currently under-construction – will soar 359 metres above the bed of River Chenab, taking it 35 metres higher than the Eiffel Tower in Paris. It will also be the seventh largest arch shaped bridge in the world. By Shikha Pushpan

While the Eiffel Tower stands tall at 324 metres, the current tallest railway bridge is in China's Guizhou province over Beipanjiang River at a height of 275 metres.
The Chenab Bridge project is a joint venture of AFCONS, VSL and Ultra companies, and is expected to be completed by June, 2019. But train operations will only begin the year after that. The first train to ply on the route will be between Udhampur and Srinagar in 2020.
The bridge is 1.3-kilometres long and spans over 1,532 feet, covering a wide gorge over the Chenab River. It is built to withstand high seismic activity and is by far the most expensive stretch of India's 64,500-kilometre railway network. The authorities have brought a crane from Italy at a cost of Rs.20 crore to carry all the construction material to the site of bridge. The entire project has cost the Indian Railways a whopping Rs.1,250 crore. Work on this bridge had begun in 2004, but the construction was stopped in 2008-09 due to concerns of frequent high-velocity winds in the area. However, the project resumed after a detailed survey by the Railways. The high-velocity winds still being a matter of concern, it has been decided that train operations will be stopped when the wind velocity rises to 90 km/h in the area. The Railways has claimed that the bridge has a lifespan of 120 years.
More than 1,300 workers and 300 engineers have been deployed for the project, who are working round-the-clock to present this engineering marvel to India on time in June, 2019.
Written By