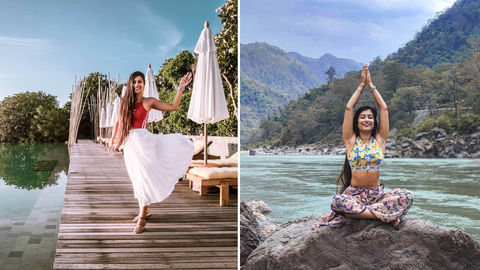 Fitness and travel may not seem like a plausible combination for many, but for Instagram blogger Radhika Bose, or Yogasini, it's a match made in heaven. Read on to know what this TEDx speaker has to say about her wanderlust-bitten side. By Priyanka Chakrabarti
What does travelling mean to you?
For me, travelling is everything. If I don't travel for a long period of time, I start losing the plot.
2. How did you start your blog?
By fluke! I used to edit videos for a living and take travel pictures as a hobby. Now, it's the other way round.
3. What does your blog stand for?
Expressing my individuality.
4. What is your blogging process like?
If I am in the mood and groove, I can do it for hours. But, if I am not in the space, then I procrastinate quite a lot.
5. When did you get interested in travel and fitness blogging?
Fitness came first and then travel followed suit. I made money off fitness and then decided to travel. I have been travelling since I was a toddler.
I would use my father's camera —
you know, the ones with a film reel —
to take pictures. I have rugged it out from a young age. Road trips, Dhaba food, finding bushes… I have done it all.
6. You have a huge community on Instagram. How do you keep them engaged?
I communicate with my followers as much as I can. I post relevant 'you and me' stories, instead of showing them an unreal life.
7. What does it take to be a travel blogger today?
8. How old were you when the travel bug bit you?
I was four when I started travelling. It's in my genes.
9. How has travelling inspired your creativity? Can you share an anecdote with us?
I love creating new content, and a new place always stimulates me artistically. But these days, I annoy everyone to take pictures of me and get super annoyed if they don't get it right.
10. Do you remember your first holiday?
11. If you could pack only five things for a vacation, what would they be?
A toothbrush, a hairbrush, some dry fruits, water, and a phone.
12. Do you believe in the concept of slow travel?
Yes, I am a fan of slow travel.
Like I said before, everyone is a travel blogger these days. But, I don't think people have learnt to respect the place they are travelling to.
For me, green travelling is always about carrying a bin bag everywhere I go. It's not much, but it is something.
14. Do you think solo travelling is more enriching than travelling with a group of people?
They both have their pros and cons. Every travel is unique and they all come with a set of experiences.
15. Which are your

favourite

cities around the world?
16. And your favourite spots in Delhi?
Written By