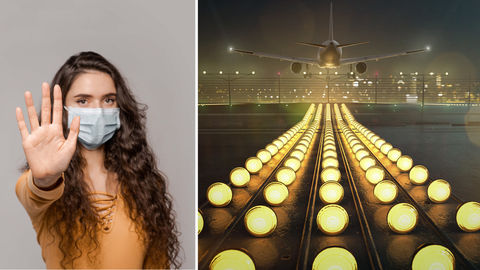 Editor's note: The global COVID-19 crisis has left each one of us deeply affected and we want to help. Burda Media India has organised a fundraising campaign to #FightBackWithTesting and donating RT-PCR test kits to the worst-affected areas in India, which will be secured from our testing partner Mylab Discovery Solutions. You can help these kits reach many more by donating for the cause or by adopting a kit. Click here to join the fight.
As domestic flights resume operations after two months, every state has come up with a separate set of quarantine rules that you must know of before booking your flight tickets. By Kumar Shree
If you are planning to take a flight, make sure to check the state-wise isolation and quarantine guidelines as every state has a different take on handling incoming passengers.
Assam
Assam will screen and quarantine all incoming passengers.
Andhra Pradesh
All passengers will be put under home quarantine and will be relieved only upon testing negative for COVID-19.
Bihar
All passengers to be put on 'paid quarantine' for 14 days.
View this post on Instagram
Bengal
Bengal insists on 14 days of home quarantine for every passenger.
Chhattisgarh
Fourteen days institutional quarantine at either a government-run facility or a hotel.
Delhi
Asymptomatic passengers not to be quarantined.
Goa
To test all incoming passengers.
Himachal Pradesh
Only residents of the state allowed to fly in. Symptomatic passengers to undergo 14-day home quarantine.
Karnataka
Passengers from Maharashtra, Rajasthan, Delhi, Gujarat, Tamil Nadu, and Madhya Pradesh to undergo seven-day institutional isolation. They will be sent for another seven-day home quarantine if tested negative in pool testing. Passengers from every other state to take 14 days of home quarantine.
Kerala
All passengers to observe 14 days of home quarantine.
View this post on Instagram
Maharashtra
The state is yet to issue guidelines for incoming passengers, but it is imperative to be cautious as Mumbai has the highest number of positive cases in the country.
Manipur
Will test symptomatic people; insists on home quarantine for 14 days.
Mizoram
All passengers must have government permission, take a COVID-19 test, and home quarantine for 14 days.
Punjab
Asymptomatic passengers to undergo 14 days of home quarantine. Those who test positive will be sent to isolation centres.
View this post on Instagram
Tamil Nadu
Asymptomatic and mildly symptomatic travellers to undergo a 14-day quarantine, and severely ill to be hospitalised. No one leaves the airport without a quarantine seal stamp on their body.
Tripura
Tripura will conduct pool testing and ask for 14 days of home quarantine.
Uttar Pradesh
Those looking to stay in the state must undertake 14 days home quarantine. A test will take place on day six. The individual can end isolation on testing negative. Those looking to leave the state within a week must furnish details of the trip and return ticket before leaving the airport. It is necessary for all passengers to register on https://reg.upcovidin.
Union Territory of Jammu and Kashmir
To test all incoming passengers. Every passenger must undergo administrative quarantine for 15 days.
Related: #StepAhead: Here Are The New Regulations For Domestic Flights In India
Written By