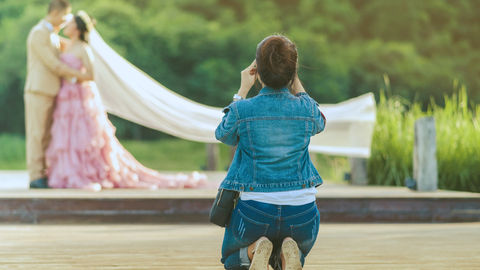 Southeast Asia is that box of sweet, which you open every time, thinking that you know what is in store but end up getting surprised by the sheer diversity it offers. For anyone looking for pre-wedding destinations for a photo-shoot that can potentially give the most exotic locations of Europe a run for their money, they are in for a pleasant surprise in Southeast Asia. By Shubhanjana Das
If you want mother nature to be the chief element of your pre-wedding shoot, Krabi is the place to be. Its lush jungles, golden beaches, the limestone cliffs and the crystal clear waters are ideal when it comes to shooting a couple who is rooted to nature and doesn't mind a few wow-worthy sunset pictures. Get your trousseau ready for this will be one epic shoot.
The red and white sand dunes of Mui Ne are one of its biggest attractions and also provide a stunning Sahara-like background closer home. Just four hours away from Ho Chi Minh City, Mui Ne is a coastal town and its dunes are constantly shaped and reshaped by the coastal winds. There is no dearth of creative possibilities that you can explore at Mui Ne but no matter what, don't leave your shoes behind.
Siem reap opens doors to opportunities of exploring pre-wedding photography in locations like the iconic Angkor Wat or the Bayon. Drone shots will be ideal in Angkor Thom, while Banteay Srei also makes for a stunning background. While the rustic beauty and appeal of Angkor Wat is no secret, it is worth knowing that the Bayon sits right in the center of Angkor Thom and represents the intersection of heaven and Earth. Basically, it is impossible to go to Siem Reap and not come back with an album that looks nothing short of cinematic and absolutely dreamy!
Honestly, just rent a car, go around Bali and pick any spot for you can be sure that it'll be as heavenly as the next. Bali has emerged as an exotic Southeast Asian holiday destination in the past few years but recently, even wedding photographers are turning to this idyllic 'Island of Gods' for pre-wedding shoots that you'd be hard pressed to believe are shot at Southeast Asia. The Bamboo Forest in Bangli, Doors of Heaven in Pura Lempuyang and Ubud are just few of the innumerable spots to consider.
Be it the Marina Bay Sands or the bustling Chinatown, the Singapore Flyer or the magnificent Gardens by the Bay, Singapore has a bunch of both famous as well as unexplored locations that are perfect for the photographer to look through the lens and envision what the perfect pre-wedding shoot must be like. Let it suit your personality as a couple, pick the right outfit and pose away!
Related: A Wedding On The Beach Is Incomplete Without These Accessories. Are You Taking Notes?
Written By