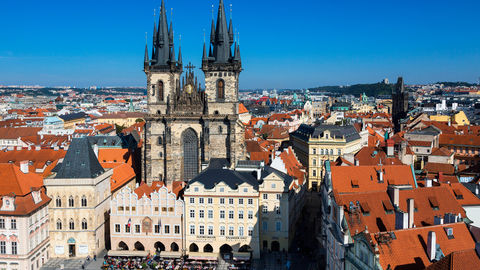 Prague's pre-WWII splendour meshes seamlessly with its contemporary vibe, much to my pleasant surprise. By Radhika Tandon
The Czech Republic had long been on my wish list, but life kept getting in the way of my actually being there—mainly because I assumed it would be wasted on the children.
From all the pictures I lusted over, I imagined myself strolling on cobbled streets, breathing in the Gothic spires and enchanting views, pausing for coffee at a chic cafe. Not quite the place to be towing two energetic children around. When I finally made it, what a pleasant surprise it was—so much more than I had imagined.
Prague is one of the few great cities of Europe to have escaped large-scale destruction during World War II, leaving it with a wealth of original architecture. The historical core of Prague is a UNESCO-listed World Heritage Site. It is bisected by the Vltava River, the iconic Charles Bridge a good reference point for any wander. I began on the east bank, strolling down Wenceslas Square in the general direction of the river. The square is misleadingly named—a long, wide street skirting the Old and New Towns that takes a while to explore. There is so much to examine, from the National Museum at one end to quirky street sculptures along the way. Hampered only by having to stop and stare, I made my way to the Old Town Square. The buildings here stand as living memorials to various phases of Prague's history. The Square was founded in the 12th century and is presided over by the medieval astronomical clock, the Prague Orloj. Local legend dictates that it must be kept in good working order or else the city will suffer. While I was there, the clock was shrouded for renovations and just days away from unveiling. At the centre of the Square is a statue of Jan Hus, the 15th-century religious reformer who was burned at the stake for his beliefs. The Church of Our Lady before Tyn is a 14th-century Gothic building, while the Kinsky Palace, which now houses the National Gallery, was built in the 18th century at the height of the Rococo era.
I walked along the historic Jewish Quarter and on to Parizska Street, the mecca for luxe shopping. Considered the most expensive piece of real estate in the Czech Republic, the street is lined with a series of luxury brands, including one of the largest Louis Vuitton stores in the world.
Close to Charles Bridge, and rapidly running out of steam, I hopped on to one of the several river cruises available on the banks of the Vltava. While this is a fairly ubiquitous activity in many European cities, I highly recommend doing this in Prague—the views from the water are stunning. The next morning, I explored the west bank. Charles Bridge, constructed in the 14th century during Charles IV's reign, is the oldest of the 17 bridges spanning the Vltava. It is lined by 30 statues, though the one I was looking for was St. John of Nepomuk. This unfortunate saint from 15th-century Bohemia refused to divulge the queen's confession to the king and was thrown off the bridge for this discretion. It is believed that wishes made to his statue always come true. I soon came upon it, distinguished by the shiny golden patch on the plaque at its feet, where it has been rubbed by thousands of hopeful visitors.
Prague Castle was my next stop. The largest castle in Central Europe, it dates back to the ninth century, with many buildings added to it through the ages. Today, it serves as the seat of the president. There are many unique buildings in the castle complex, but St. Vitus Cathedral is undoubtedly the highlight. Afterwards, I joined visitors thronging the Golden Lane, so called because of a legend that it once housed royal alchemists. At Number 22, I peeked into the house where Franz Kafka lived and worked. Over the next few days, I discovered many more facets to Prague. The city drips with history and grandeur at every turn, but is also thoroughly contemporary. When you've had your fill of museums and monuments, you can grab a klobatsky (sausage) or trdelnik (a cinnamon pastry that, while not native to the Czech Republic, is found everywhere) from a street cart and wander around the cobblestone streets. Prague's magic lies in being a visual treat with something beautiful to feast on at every corner.
There are lots of interesting restaurants and unusual shops to browse. You can try your hand at the beer bikes—a sort of mobile pub that crawls with you—that combine two abiding Czech passions, beer and biking. When I tired of tramping the streets, I retreated to a beer spa, which turned out to be surprisingly refreshing. I soaked in a hot tub infused with hops, while sipping cold Czech beer on tap and nibbling on beer bread. Afterwards, I lay on a bed of straw, wrapped in a sheet, while letting the hops work their magic on my skin. At a lively restaurant on the riverfront, I discovered goulash. Not the soup I was expecting, but a delectable dish of tender, slow-cooked meat in a dark gravy, served with dumplings, which quickly became my staple diet in the city. Another day, I explored Prague's art district, where life and art are seamlessly entwined. Praha 7 is both a neighbourhood where people actually live and work, and a centre for contemporary art and culture. There is, for instance, Jatka 78, a former slaughterhouse that now houses a theatre as well as a gallery and cafe. And Vnitroblock, starkly industrial in keeping with its former avatar as a factory, is an art gallery with a restaurant that also serves as a showroom for local fashion brands. Or you can pop into Bitcoin Coffee, a cafe that accepts payment only in bitcoin, and get acquainted with the principles of the Parallel Polis movement.
The area is also home to the DOX Centre for Contemporary Art, distinguished by the giant wooden blimp on its roof. It hosts some stunning permanent exhibits and an impressive roster of temporary displays. In its vicinity is a planetarium, a hockey arena, an ice-skating rink and the Prague Exhibition Grounds, a vast exhibition hall with programmes for children. At Letna Park, I stopped for lunch at the elegant bistro Letensky Zamecek. The beer garden outside is a great spot to laze away a sunny afternoon. For a change of pace, there are plenty of day trips under an hour from Prague. The Fashion Arena Prague Outlet is one of the largest shopping centres in Europe, a mere 25 minutes from the city centre. I could have happily spent a day in retail therapy, browsing through the many international brands available at serious discounts. The mall is laid out in a user-friendly circle and offers a VIP day pass to foreign visitors for some added perks. There is a playground to keep the kids entertained, and restaurants as well.
About 40 minutes out of Prague is the Prague Zoo, accessible from the town centre by metro and bus and currently rated the fourth best zoo in the world. My visit was all too short, but I was impressed by the ecosystem-themed displays and would have loved some more time at the petting zoo. Another child-friendly excursion is to the delightfully random collection of experiences at the Mirakulum. Built on the site of a former Soviet military base, this amusement park is popular with Czech and Polish families. While language may pose a slight barrier for English speakers, it is still doable without a guide. There is a vast playground of non-mechanised structures, including a wooden castle, climbing frames, giant trampolines and a water play area. A narrow-gauge railway connects the park to the neighbouring Tankodrome, where you can ride a military tank while gazing at highland cattle, ponies, and llamas along the way.
Getting a sense of the country outside Prague is relatively easy, with many possibilities within an hour or two of the city limits. One overnight foray I made was to the Detenice Chateau Resort. Originally built as a fortress in 1404, it has had several incarnations, from being the seat of a count to, more recently, serving as a juvenile reform school under communist rule. Today, it has been lovingly restored as a grand chateau with many of its original frescoes and artefacts. I stayed at the medieval-themed Stredoveky Hotel on its grounds, replete with candlelight, stone floors, and wooden beams. The rooms recreate those of a medieval inn, with tall four-poster beds, wooden toilets, and stone gargoyles that glare at you disconcertingly through the night. At midnight, staff in ghoulish costumes rattle chains and moan their way down the corridors, and breakfast is served in a trough, with a vat of boiling water to make your coffee. The overall effect is fun and kitschy rather than spooky. The nearby tavern serves dinner with a side of Czech-language entertainment. Though I couldn't follow all the banter, it was worth it for the atmospherics with an eclectic band of entertainers that included a fire-eater, some light-hearted torture re-enactments, and, somewhat confusingly, a belly dancer. Close by, and with quite a different ambience, the exquisite Chateau Mcely is about an hour to the northeast of Prague. A former aristocratic manor, this chateau offers an elegant and tranquil retreat deep in the Bohemian countryside. With a chapel on the premises, a glass-enclosed patio bar with views in every direction, and an in-house spa with its own exclusive products, it's perfect for a luxurious getaway. There are pretty walks and cycling trails in the surrounding villages and forests. Children will love Nely, Princess of Chateau Mcely, a sweet, illustrated book written by the current owner about her daughter. It is filled with imaginary adventures of the child in the various country-themed rooms of the chateau. There is plenty of inspiration for youngsters to make up adventures of their own, such as the beetle hotel on the grounds, a small library in the top floor of the tower, and all the usual accoutrements of playground and pool.
West of Prague, I visited the picturesque little town of Loket. Close to the German border, it presents a postcard view with its castle on a hill and the Ohre flowing in a crooked bend beneath it. The town hosts an opera festival every year, as well as the Czech Motocross Grand Prix. The climb to the top of the castle was well worth it for the views. Afterwards, I stopped at the Staroslovanska Kuchyne, a tavern with its own brewery that serves an assortment of unique beers, including smoked and sweet ones. Karlovy Vary, nestled in a valley to the west of Prague, was my favourite place outside the capital. This spa town deserves a couple of nights at the very least. There are 15 thermal springs running beneath the town, and various spas and hotels offer treatments ranging from two-Week packages for specific ailments to short wellness breaks. You must buy a specially designed porcelain cup with a spout, and can taste the waters in a number of places around town.
Karlovy Vary hosts a prestigious European film festival and boasts two of the most famous products of the Czech Republic—Moser glass and Becherovka liquor. The Moser factory offers regular tours where you can watch expert glassblowers at work, and buy their exquisite (and extremely expensive) products. Becherovka, especially the lemon version, is just plain delicious (and medicinal, the Czechs will tell you), and makes a great souvenir. If you like the idea of a stately, old-fashioned European hotel, the Imperial in Karlovy Vary is built like a castle and stands on a hill, with the town spread beneath it and forested hills beyond. I found myself there on a full-moon night and despite freezing temperatures, sat on my balcony entranced by the view, having my Grand Budapest Hotel moment. Earlier that evening, I had sailed high above the region in a hot-air balloon, tasted the spring waters, and dined in the town centre. It was the perfect setting to reflect on all the highly anticipated—as well as the unexpected—delights that I had encountered in this beautiful country.
ALL PLAY IN PRAGUE
The capital of Czech Republic ticks all the boxes for an immersive tour for the entire family. Stroll through cobblestone streets to explore its history and hop cafes to tap into the local buzz.
GETTING THERE
Fly to Vaclav Havel Airport in Prague via Istanbul on Turkish Airlines.
STAY
PRAGUE: Penta Hotel is a trendy place 15 minutes from Old Town Square. From INR 6,800.
DETENICE CHATEAU: A 15th-century fortress with lovely artefacts and the medieval inn-themed Stredoveky Hotel. From INR 6,600.
CHATEAU MCELY: The ideal place to weave your own fairy tale. Rooms are INR 18,000 and upwards.
KARLOVY VARY: The Imperial Hotel offers splendid views from a hilltop. From INR 11,200.
BEST SEASON
Summer is popular, though spring and early autumn have mild weather and smaller crowds. Or catch the Christmas markets from late November onward.
TOP TIP
Be very careful when changing money—fine print involving the sum you exchange is a well- established scam. Never hand over cash or sign a receipt without confirming exactly how much money you will be given for your foreign exchange. The booths around Wenceslas Square are among the safer places.
Related: This Beer-Based Spa Treatment In Prague Will Leave You 'Hopped' Up
Written By