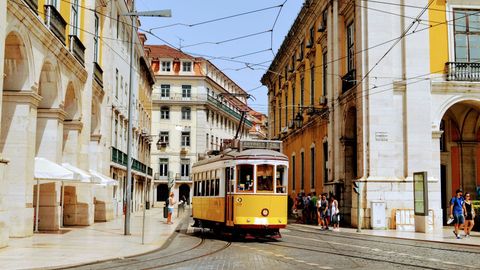 Portugal has not put an end to its golden visa scheme, at least not yet. The country's government has, however, re-approved certain modifications related to the real estate investment category of the visa program.
This visa category is part of the More Housing Bill and permits foreign nationals to invest from EUR 280,000 (INR 2,44,12,164) and upwards. However, while the visa category is coming to an end, opportunities to renew existing authorisations will continue.
Here's how to obtain a golden visa for Portugal under the revised scheme: As reported by Schengen Visa Info, the Portuguese government had previously endorsed changes to the golden visa scheme in July. These changes included discontinuing new residence permits for real estate investments and introducing the option to transfer EUR 1.5 million (INR 13,08,27,000) or more into a Portuguese bank account. However, the bill required approval from Portugal's President, Marcelo Rebelo de Sousa. Last month, he rejected the proposal, leading to further amendments to the bill, which have now been passed without any changes. The Portugal News notes that approximately 320 amendment proposals were introduced, but all were rejected by socialist deputies and other parliamentary groups.
Now that the real estate route is no longer an option to obtain this visa, the fund investment category is expected to become the preferred method for securing a golden visa, as reported by IMI Daily. Additionally, requests for granting and renewing residence permits for investment activities will continue to be valid, provided they were pending before the implementation of the new control procedures.
Under the revised scheme, applicants for a golden visa in Portugal must meet one of the following criteria:
Create at least 10 new jobs;
Make a transfer of EUR 500,000 (INR 4,36,06,958) or more to support research conducted by public or private sector institutions affiliated with the national scientific and technological system;
Carry out capital transfers of EUR 250,000 (INR 2,18,05,839) or more to support investment in artistic production, heritage preservation, and maintenance of the national cultural heritage through various approved entities;
Make capital transfers of EUR 500,000 (INR 4,36,06,958) or more are made towards acquiring participation units in investment funds (non-real estate collective investment entities) or venture capital funds in accordance with Portuguese legislation. These funds must focus on the capitalisation of companies based in Portugal, with a maturity period of at least five years, and a minimum of 60 percent of the investment's value must be directed toward domestic commercial companies.
Make capital transfers amounting to EUR 500,000 (INR 4,36,06,958) or more are made towards the incorporation of a commercial company with its headquarters in Portugal, combined with the creation of five permanent jobs, or increase the share capital of an existing Portuguese commercial company, resulting in the creation of five permanent jobs or the maintenance of 10 permanent jobs for a minimum of three years.
Hero and Featured Image credit: Aayush Gupta/Unsplash
All currency conversions were done at the time of writing
Related: 8 Of The Cheapest Countries To Retire Around The World
Written By