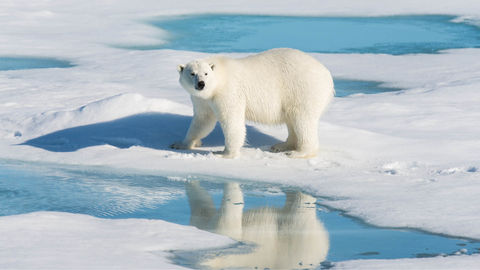 If the plethora of wildfires, tsunamis, and melting glaciers weren't enough signs of the impending doom, then a glimpse of polar bears becoming thinner should be the last haunting reminder we need. By Bayar Jain
In a new study published in Ecological Applications, melting of sea ice has resulted in weight loss among polar bears, along with a decline in the cub births. Since bears largely rely on sea ice for survival, such as to hunt seals, travel, make dens, or even mate, the early onset of melting ice results in an overall slowdown of their survival. Moreover, with the Arctic facing a spell of meltdowns at an alarming pace, polar bears are left with less time to eat, or even procreate, in turn leading to their declining numbers. Currently, these white bears are already listed as vulnerable species. With this, they are inching closer to being included in the list of endangered animals.
In order to reach these scary conclusions, researchers tracked the movements of adult female polar bears living in Greenland over two periods of time – in the 1990s and in the 2010s. Between 2009 to 2015, the bears were seen spending an average of a month on land than they did during the 1991 to 1997 period. The scientists believe that this is because sea ice is melting faster and sooner in the year, thus effectively land-locking the polar bears.
Moreover, when the sea ice levels dwindle, polar bears tend to wait it out in hopes of renewed ice build-up for them to travel out into the sea and hunt seals. Without sea ice, the bears don't get enough to eat and become thinner. Of the 352 bears that were studied, not even 50 were considered fat, a marker of how well their body can keep them warm in the freezing temperatures. In addition to becoming thinner, polar bears were also found to have less offspring, most likely due to their inability to find enough food to sustain themselves and their cubs.
As a conclusion to their findings, researchers warn that climate change will continue to impact the bears. With the population changing at such a startling pace, a quicker pace of conservationist activities is required to combat this.
Related: Netflix Original's Disturbingly Beautiful 'Our Planet' Should Be On Everyone's Watch-list
Written By