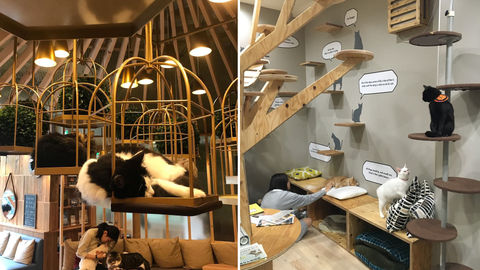 Tokyo is known for having some of the snazziest, weirdest, and most out-of-the-box cafes around the world. From cafes with unbelievable architectural designs to robot-run ones, Tokyo knows how to serve entertainment and amusement as a condiment along with mouth-watering dishes. The pet cafes in Tokyo have recently garnered the world's attention because of their cutesy, adorable vibes without causing harm to these animals. From dogs and cats to even hedgehogs, you'll find them all in these pet cafes of Tokyo. By Shubhanjana Das
Given that animal cafes started off as a trend after cat cafes became one of the biggest attractions of the city, some cafes here have been under the ire of animal rights organisations. They have been accused of practicing cruelty and not taking care of these cuddly buddies after business hours. Our list only includes the ones which are an alternative to that culture, and offer a safe haven for adopted and rescued animals.
1. Cafe Lua, Machida
At Cafe Lua, cats and dogs are treated with love and compassion. At this temporary residence of theirs, these rescued furballs are up for adoption in a caring family. If that's not something you're up for, you can still eat at Cafe Lua and be assured that all the proceeds go towards extending care and health to these animals. If you have your own pooch, bring him/her along for some playtime with the buddies at Cafe Lua.
2. Neco Republic
Neco Republic is a chain of cat cafes in Tokyo dedicated solely to felines looking for a permanent place to call home. If you are not a resident of Japan or don't intend to take one of these pawsome friends home, you can simply enjoy your tea. You can even buy some souvenirs or play with kitties, knowing that these creatures are being cared for. Neco Republic has branches in Ikebukuro, Nakano, Ochanomizu and in Osaka, Hiroshima and Gifu.
3. Hedgehog Cafe Harry, Minato-Ku
The most responsible pet cafes in Tokyo will give you a list of guidelines before you can pet the furry buddies. Some of these cafes don't allow you to touch, let alone hold the animals. At Hedgehog Cafe Harry, the first of its kind in the world, the same applies. Hedgehogs usually don't sting unless alarmed. To avoid such a scenario, you'll be guided on how to make the experience pleasant, for you and the little creature – both! However, if you're unsure, just bask in their cuteness from a distance.
4. Cat Cafe MoCha, Shibuya-Ku
If you are a cat lover, you'll be very pleased to find the nourishing environment that is given to these felines at Cat Cafe MoCha. Besides the stunning city views from the cafe, you get to see the cats roaming about freely in large spaces. Happy toys, cat-limbs, chairs, tunnels, and all sorts of cat-entertainment ensures these cats are very happy (albeit not so visibly). At the Shibuya-Ku branch, you need to be over 13 years to visit. Moreover, you will also be expected to follow a guideline provided by the staff before petting the cats. If you wish to feed these four-legged buddies, you are only allowed to feed them what the staff provides.
Related: 6 Pet-Friendly Ski Resorts Every Pet And Snow Lover Should Explore!
Written By