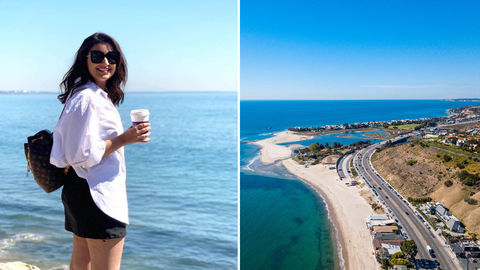 Parineeti Chopra has recently proven that she is a true-blue traveller at heart, and that makes her our new favourite person. She explored the best of Australia in 2018, ringed in the New Year with her friends in Germany, and shortly after set off to yet another vacation in Maldives. Guess what! She is travelling again, and this time she is in Malibu. By Kumar Shree
When Parineeti shared this picture around a week ago on her Insta feed, we immediately knew she was off to another vacation. This seems like the waiting area at Heathrow Airport in London. We were eagerly waiting in anticipation for her to reveal the destination. Thanks to her next upload, now we know, she's in Malibu.
Parineeti's choice of outfit here caught our attention, and surprisingly she highlighted the same in her caption. "Boots and a shirt to the beach. Anyone who has an objection to this, should speak up now or forever hold their peace. ????????????," she wrote. Well, guess what, we do not object. One of her followers summed up our feeling via her comment, "Uber cool @parineetichopra ????."
Did you know that Parineeti is also a Harry Potter fan? Well, now you know! Sharing her love for the franchise, she shared a Boomerang from a store at the Universal Studios Hollywood. Don't tell us that she doesn't remind you of Hermione Granger in that black robe. "Anyone who knows me knows I am a Harry Potter fan (obsessed would not be an exaggeration). So I went to Universal, wore his robes and bought a wand. Like a good Muggle," she captioned the upload.
On the work front, the actress had a busy year with back-to-back shoots for Saina, The Girl on the Train, and Sandeep Aur Pinky Faraar. These films are expected to hit the theatres soon and we are eagerly waiting to see our favourite star on the big screen.
Related: Parineeti Chopra Is Holidaying In Maldives And Her Instagram Feed Is All LIT!
Written By