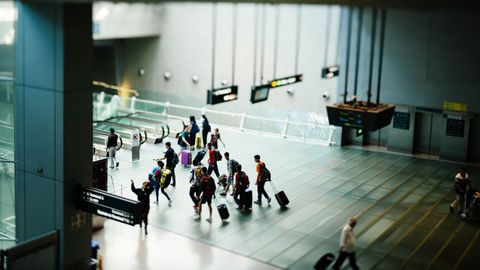 In March 2023, Amsterdam's Schiphol Airport launched a new scheme letting travellers book a time slot for their security check in advance. Within six months, the airport announced that about 500,000 (half a million) passengers have already used this service.
Since its launch, travellers were allowed to pre-book their slot up to three days in advance for free and decide the time that they wanted to go through the security check. These bookings help the airport predict passenger flow better and avoid long queues at checkpoints.
Initially, only travellers to the Schengen Area were permitted to book a time slot, but since July, the service has been open for travellers flying outside the region, too. According to a report in NL Times, the most popular slot is 1.5 hours before departure. Most of the time slots were booked for passengers to Barcelona and Alicante, adds the report.
Here's how to pre-book your security time slot at the Schiphol Airport You need to log into the official website and enter the details required such as date of travel, airline, destination and flight number along with party size and passenger information. You can then make your booking after completing all other formalities. You will receive a confirmation email with a QR code, which you must bring to the airport.
Once you have checked in and received your boarding pass, follow the yellow signs to the gate. Scan your boarding pass and proceed to security, ensuring that you reach within the time slot that has been assigned to you. Schiphol Airport says if you reach earlier or later than the fixed time, they cannot guarantee the utilisation of your reservation.
Next, head to the queue marked 'Timeslot' where a staff member will scan your QR code. From here, you can simply proceed with a security check without having to wait for too long.
Find out more here
Hero and featured image: Representative Image credit: CHUTTERSNAP/Unsplash
Related: Know 8 Abandoned Airports Around The World And The Stories Behind Them
Written By