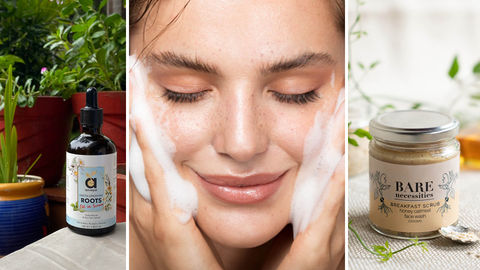 Transform your skincare and haircare routines with these organic beauty essentials. By Priyanka Chakrabarti
Blood Orange & Rosehip Lip Balm, Juicy Chemistry, INR 350 (5 gm). Organic Lip Scrub, Love Earth, INR 399 (30 gm). Hydrating Sandalwood and Orange Peel Facial Moisturiser, Forest Essentials, INR 1,725 (200 ml). Almond + Walnut Scrub Bar, Nature Therapy, INR 300 (100 gm). Lavender Face Oil, Junaili, INR 649 (35 ml). Conditioner, Bare Anatomy, INR 849 (300 ml). Breakfast Scrub: Honey Oatmeal Face Wash, Bare Necessities, INR 175 (200 gm). Anti-Age Serum, Shankara, INR 3,450(30 ml). Rose & Jasmine Hair Cleanser, Kama Ayurveda, INR 1,295 (200 ml). Oil-in-Serum, Roots by Nikita Upadhyay With Anveya Living, INR 1,495 (100 ml). Related: Bag These Beauty Products To Come Out Of Lockdown With Fresh And Soft Skin
Written By