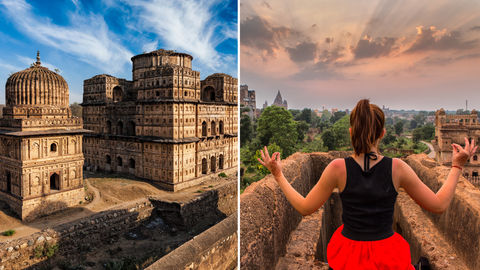 A 16th century, cultural seat of the Bundela Dynasty, Orchha is home to several historical monuments and a key tourist attraction of Madhya Pradesh. And, Orchha has grabbed a spot in UNESCO's preliminary list of world heritage sites. By Ishani Singh
A place of noteworthy historical and cultural importance is liable to enter the United Nations Educational, Scientific and Cultural Organisation's (UNESCO) list of world heritage sites. The UNESCO included the historically significant town of Orchha in the list following a proposal sent by the Archaeological Survey of India (ASI) to the United Nations agency on April 15, 2019.
There are multiple ancient sites of historical significance in the city that depict the grandeur of the Bundela and Mughal dynasties and have stood the test of time. It is dotted with numerous monuments, gardens, temples, and murals, which stand testimony to the cultural landscape of the 16th century. The hamlet is 15 km from Jhansi, and is famous for structures like the Chaturbhuj and Ram Raja temple's, the Jahangir Mahal, Orchha fort complex and the Uth Khana, among others.
It has two minarets — Saavan and Bhadon and palaces like the Sheesh Mahal and Rai Praveen Mahal depict exemplary architectural styles with open bungalows and stone windows, along with numerous inscriptions, cenotaph's and intricate figures on walls that preserve and present the aesthetic, cultural and ecological value of the ancient city of Bundelkhand. The mighty Sri Ram Raja Mandir is a temple dedicated to Lord Ram where the deity is worshiped as the king and is the only structure of its kind in India.
The International World Heritage Programme, administered by the UNESCO World Heritage Committee, is designated to compile the list of world heritage sites. Some historically famous sites in the state of Madhya Pradesh like the rock shelters of Bhimbedka, Buddhist structures at Sanchi, and sites at Khajuraho are among the 37 Indian heritage places present in the UNESCO list.
Related: Why This National Park Is Madhya Pradesh's Best Kept Secret For Wildlife Lovers
Written By