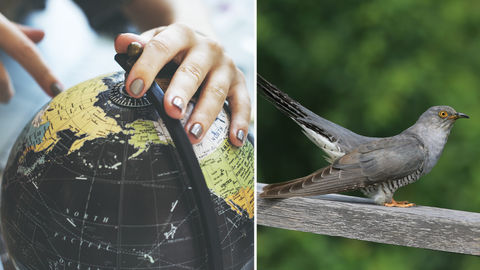 Talk about a herculean task! A Common Cuckoo called Onon has just completed a record-setting journey for any land bird, by crossing the borders of four countries, and is now resting in Yemen. Here is his story. By Amitha Ameen
ONON is still going! He's passed Masirah Island and is tracking the coast of Oman and soon to head into Yemeni waters… now 2,500km non-stop since leaving India and it looks as if he's heading for the Horn of Africa.. What a bird! https://t.co/SSuWCw0gqz pic.twitter.com/F5N9YBcuzf

— Birding Beijing 北京观鸟 (@BirdingBeijing) September 25, 2020
While most of us are spending our days longing for the great big outdoors, Onon the common Cuckoo has literally been visiting various countries on his cross-country voyage. Onon is one among the five cuckoo birds who have been fitted with satellite tags and radio transmitters by scientists in Khurkh Bird Ringing Station in Northern Mongolia in 2019.
Onon, who was fitted with the tag in June 2019 has already completed a mammoth round-trip journey of around 26,000 kilometres — a journey that includes 27 border crossings between 16 countries. The cuckoo bird research is being led by Mongolia Cuckoo Project — a joint venture between local scientists and the British Trust for Ornithology (BTO), whose focus lies on figuring out why and how these birds undertake these long-haul flights (as reported on Earth Touch News).
On July 13, 2020, Onon began his second cross-country journey and had arrived at Rajasthan in India on Thursday after covering a distance of 5,426 kilometres and crossing three borders which are of Mongolia, China and Myanmar. The very next day Onon was found over the Arabian Sea and he reached Yemen from India in just two days after flying non-stop for 3,500 kilometres.
ONON is in Yemen. From the signals received it appears he's taking a well-deserved break after his epic crossing of the Arabian Sea. More than 3,500km in 64 hours. That's an average of more than 50km/h. ???? pic.twitter.com/Q6K0LxZPCE

— Birding Beijing 北京观鸟 (@BirdingBeijing) September 27, 2020
While Onon seems to finally be taking a breather in Yemen after his long journey, his final lap will include migrating back to Africa where he originally hails from and where he will be spending the winters before he once again starts his journey across the world next year.
While Onon was able to successfully complete his journey and take the same routes as his previous one, the other birds who were fitted with the transmitter did not return this year and could have succumbed to exhaustion or may have been victim to poaching.
Related: This Artist Creates The Most Realistic Bird Sculptures You've Ever Seen, Using Only Paper!
Written By