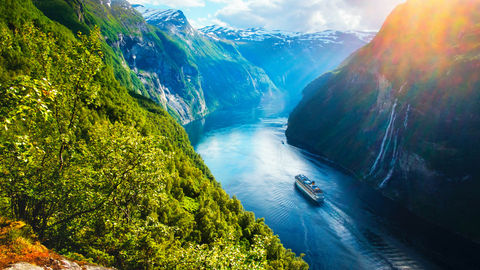 It might look fictitious because of its glowing skies, unusual landscapes and distinct culture, but Norway is a reality that needs witnessing to believe. Why plan a staycation when you could take a few steps ahead and plan a honeymoon filled with fun activities you can do together as a newbie couple instead of sitting at a spa all day? Ride a boat near the fjords, witness the northern lights, live in a quintessential Norwegian mountain village — the possibilities are endless. By Shubhanjana Das
1. The Geirangerfjord Cruise
You may have experienced luxury cruises all over the world, one more lush than the other, but you will be hard-pressed to find a cruise that takes you among the fjords. In Geirangerfjord, the 15-km fjord bordering the village of Hellesylt, you will find yourself surrounded by the flora and fauna that thrives during the summer months, azure blue waters, cascading waterfalls and towering mountains. If this is not the perfect setting for your first cruise as a couple, we don't know what will be.
2. The Northern Lights from Lofoten Islands
If you haven't seen the Northern Lights when in Norway, it calls for a second trip ASAP. Perhaps with your beau, this time? If you have your honeymoon planned anywhere between October to March, ensure a trip to the Lofoten Islands for some best views of the aurora borealis that Norway has to offer. The 24-hour Aurora Expedition in the Lyngen Alps is also worth giving a shot. Also, you have to be lucky to witness the Northern Lights on the very night you have planned, for it depends on a number of natural factors. Make sure you have some extra time in hand to dedicate to this one-of-a-kind lifetime experience.
3. Trolltunga Hike
It is said that couples who adventure together, stay together. When in Norway, hike up to one of the most breathtaking sites you will witness in all your life. The hike up to Trolltunga is six-hour long and once you reach the summit, you will be greeted by the view of a massive piece of rock hanging out 700 meters above Lake Ringedalsvatnet. Every picture you click here will be envy-worthy and every moment spent here with your partner will be worth remembering for life.
4. Whale Safari in the Arctic
The name pretty much says it all, doesn't it? From Tromso and Sto, you will be at a distance of 350 km and 200 km from the Arctic ocean respectively. So, why not travel the distance to go and catch a few possible glimpses of the majestic marine beast? Sites of seals and Arctic birds are complimentary!
5. Romantic Dates in Oslo
Wrap up all the crazy adventurous experiences with a romantic date with beau in Oslo. From the three-Michelin Star restaurant Maaeemo to establishments like Mathallen Oslo, which is an artisanal indoor marketplace for everything eatables, you might be out of date nights but not out of romantic places to dine in. Try Delicatessen for Norwegian take on Spanish tapas or grab a seat in the Restaurant Fjord whose menu is a Scandinavian treat of local delicacies.
Related: The Ultimate Northern Lights Itinerary In Norway!
Written By