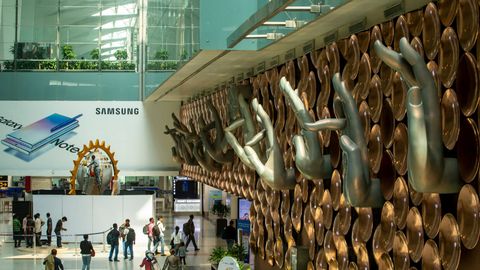 Delhi's Indira Gandhi International (IGI) Airport is getting two upgrades. The elevated Eastern Cross Taxiway (ECT) as well as the fourth runway at the airport will be inaugurated on July 13.
According to officials, both will be unveiled by Union Minister for Civil Aviation and Steel, Jyotiraditya Scindia, says Mint. The ECT is expected to reduce the traveller's time in the aircraft (after landing) by almost half, bringing down the minutes from 20-25 to just 10-12.
Everything to know about the elevated taxiway at Delhi Airport
India's first-ever Elevated Cross Dual Taxiway (ECT) at #DelhiAirport is all set for its launch! The engineering marvel is poised to bring Ease on multiple levels, from reducing CO2 emissions & enhancing passenger experience to making #DelhiAirport future-ready!#EaseElevated pic.twitter.com/s22akFLvrJ

— Delhi Airport (@DelhiAirport) July 8, 2023
The ECT is 2.1 km long and links the northern and southern airfields on the eastern side. It connects runways 28/10 with the existing third runway, 29L/11R, and the new fourth runway, 29R/11L. The taxiway is dual-lane and can handle two flights at once. It is expected to enhance a flyer's experience by reducing the time needed to take off or land from Terminal 1, as the distance between the third runway and T1 will be reduced to 2 km from the present 9 km, according to I Prabhakara Rao, deputy managing director, GMR Group.
Officials also state that the ETC will help reduce carbon emissions, saving up to 55,000 tonnes of carbon dioxide per annum. This will contribute to achieving a 'Net Zero Carbon Emission Airport' by 2030. Further, the ECT will make Delhi Airport the only one in India to have an elevated taxiway.
More details about the fourth runway at Delhi Airport
Slightly smaller than the third runway, the new one is about 4,400 metres long and 75 metres wide. According to Hindustan Times, officials from Delhi International Airport Limited (DIAL) say that IGI Airport currently handles over 1,500 air traffic movements each day and the launch of ECT is expected to raise that significantly. Additionally, with the inauguration of the fourth runway, Delhi Airport will be the only one to have four airstrips.
Shop the best travel experiences here
Hero and Featured Image credit: Duc Huy Nguyen/Shutterstock
Related: With Four Runways & An Expanded Terminal, IGI May Soon Become One Of The Largest Airports
Written By