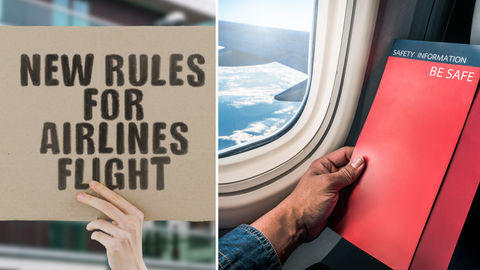 Editor's note: The global COVID-19 crisis has left each one of us deeply affected and we want to help. Burda Media India has organised a fundraising campaign to #FightBackWithTesting and donating RT-PCR test kits to the worst-affected areas in India, which will be secured from our testing partner Mylab Discovery Solutions. You can help these kits reach many more by donating for the cause or by adopting a kit. Click here to join the fight.
The Civil Aviation Ministry of India has released a new set of regulations and guidelines to be followed when taking a flight starting May 25. We've listed them for you. By Kumar Shree
Airlines, airports, passengers, and other stakeholders — everyone gets a new set of regulations by the government before resuming domestic flights starting May 25.
1. Before Reaching The Airport
Update yourself with the new rules about social distancing, health declarations, luggage limits, and payments.
Refrain from travelling at all if you put up in a containment zone.
Downloading and registering on the Aarogya Setu app is a must.
Web check-in yourself and get the boarding pass.
Print the baggage tag and put it on your bag. If you don't have the facility to print, write the passenger's name and PNR number on a piece of paper and paste it on the bag.
Download the baggage tag that has an identification number on it.
Ensure maximum safety while travelling to the airport.
Carry only one hand baggage and one check-in luggage.
You will be allowed to travel only after making a declaration.
Reach the airport two hours ahead of your flight's departure time.
View this post on Instagram
2. At The Airport
Put on your protective gear before entering the terminal.
Get your health status through the Aarogya Setu App or a self-declaration form.
Pass through the CISF entry point.
Proceed to the baggage drop counter. You will get a receipt of it through SMS.
Complete the check-in and baggage drop 60 minutes prior to the departure of your flight.
After passing through the security check, collect your safety kit near the boarding gate.
View this post on Instagram
3. Inside The Aircraft
Maintain distancing and hygiene.
Stick to your seat and avoid using lavatories.
Do not consume any eatables.
Inform the crew of any uneasiness.
Note that there will be no meal service, however, you can get water.
4. Getting Out Of The Airport And Reaching Your Place
Maintain social distancing at all points.
Use only authorised taxi services.
Related: #StepAhead: Domestic Flights To Resume Operations From Monday, May 25th
Written By