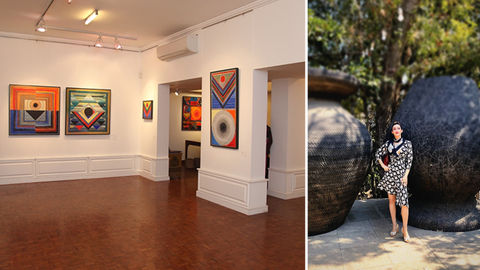 New Delhi is known for many things: historic monuments, heritage legacies, and a bustling art landscape. It is also the ground for the India Art Fair, which lures art lovers and collectors from all over the country. With its rich artistic legacy and an equally engaging contemporary scene, the city has a number of museums and art galleries that are essential for all art lovers. Here are some of our top five selections. By Shalini Passi The National Gallery of Modern Art, or NGMA, is a premier art gallery under India's Ministry of Culture. Established in 1954, today the Delhi branch is one of the world's largest modern art museums. The collection here spans more than 1,700 works by artists from early modernism such as Thomas Daniell, Raja Ravi Varma, Abanindranath Tagore, Rabindranath Tagore, Gaganendranath Tagore, Nandalal Bose, Jamini Roy, and Amrita Sher-Gil. The gallery also contains works of renowned modern masters like progressive artists MF Husain, FN Souza, SH Raza, and KH Ara, as well as late modern artists like Tyeb Mehta, KK Hebbar, Krishen Khanna, A Ramachandran, Bhupen Khakhar, Arpita Singh, and Ghulam Mohammed Sheikh, among others. NGMA is an art lover's and budding student's necessary resource to view canonical artworks and acquaint oneself with the histories and trajectories of Indian modern art. The Kiran Nadar Museum of Art was established in 2010 by avid art collector Kiran Nadar. The museum is one of the first private museums to display modern and contemporary works from India and the subcontinent. The collection here consists of a number of 20th-century Indian painters, as well as works of younger contemporary artists. KNMA's programming focuses on promoting art and pedagogy through workshops, symposiums and public programmes, along with organising exhibitions and walkthroughs. Vadehra Art Gallery is one of the oldest art galleries in the city, with a collection spanning over four generations. Established in 1987, the gallery was conceptualised out of a need to build an institution serving as a platform to connect artists with art lovers. The gallery's collection includes works by MF Husain, SH Raza, Tyeb Mehta, Arpita Singh, Ganesh Pyne, Anjolie Ela Menon, Atul Dodiya, Shilpa Gupta, Nalini Malani, Atul Bhalla, among others. The gallery often displays its collections in museums, as well as international platforms, in turn helping contribute to the exposure of Indian art globally. The gallery's diverse collection is sure to lure art aficionados as well as casual visitors who wish to know more about the Indian art landscape. Latitude 28 was conceived as an art gallery and incubation space to facilitate ideas through curatorial projects, lectures, artist talks and walkthroughs. The gallery is named after its location and helmed by its founder and director Bhavna Kakar. Latitude 28 provides young artists with an opportunity to showcase their works alongside masters of Indian art. It provides artists and viewers with a lateral perspective to view the contemporary artistic practice in the context of its history. It's approach towards supporting emerging, exciting contemporary practice makes this gallery an important stop to witness experimental new practices in the city. Nature Morte was first founded in New York in 1982 before it was closed and reinvented in 1997 as a commercial gallery by Peter Nagy in New Delhi. The art gallery is known for its focus on challenging and experimental art forms, championing conceptual installation, and lens-based practices. Along with representing artists of international acclaim, Nature Morte regularly organises projects and exhibitions with international artists visiting India by combining their work with Indian artists to foster multicultural engagements and perspectives. Some artists represented include Jitish Kallat, Anita Dube, Mithu Sen, Bharti Kher, Imran Qureshi, Mona Rai, Pushpamala N, Seher Shah, Thukral & Tagra, Raqs Media Collective, and Asim Waqif among others. Nature Morte is undoubtedly an unmissable stop to view pivotal experimental artists.
Shalini Passi, the founder of Shalini Passi Art Foundation and MASH, will be curating one such list from all across India. Stay tuned as the art collector takes you on a cultural escapade every weekend.
Related: Art Maven Shalini Passi Handpicks Mumbai's Top Art Galleries & Museums For You
Written By