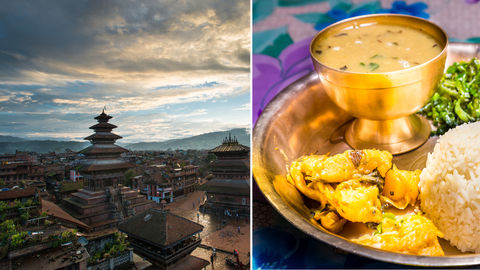 If you think Nepali cuisine starts at momos and ends at thukpas, you are far from the truth. This cuisine is distinct and packs in every flavour thus proving to be a treat for the whole palate. If you are in Nepal, don't forget to go hopping these best spots in town for the iconic Nepali staples that are now classics. By Shubhanjana Das
1. Samay Baji
The plate of starters served at the beginning of every Nepali festival – Samay Baji is surprisingly simple yet the perfect appetiser to give you a hint of what awaits you. Chiura (flattened rice), Choila (marinated meat), fried boiled egg, black soybeans, potato pickle, julienne ginger, spiced beans, leafy veggies, and of course, 'buff', or buffalo meat are constants in Samay Baji.
2. Sel Roti
Like Indians have their samosa, Nepali's have their Sel Roti. This lovechild of bagel and donut is as crunchy on this outside as it is soft on the inside, thanks to all that deep-frying. It is had with pretty much everything, but especially with the morning and evening chai. In fact, if you have more than four, it might just become a meal in itself. Locals also enjoy it with homemade yogurt. The best ones are always found at road-side stalls.
3. Dhido
Nepal's answer to Polenta, Dhido is had extensively in the higher altitudes of Nepal where rice or wheat cannot be grown. It is made by mixing hot water with buckwheat and maize flour. Condiments range from gundruk to pickle to vegetable curry and is the second most popular dish in Nepal after the humble dal bhat.
4. Dal Bhat
Speaking of dal bhat, it is the twin brother of our dal chawal and an absolute staple in the country. And, if you think that Nepali people serve only rice and lentils when you ask for dal bhat, you are sorely mistaken for it is accompanied by a selection of the season's freshest vegetables, a choice of meat or mushroom along with pickle, salads, papad, and curd to finish the meal on the right note. It is homely to say the least and represents the culinary practice of Nepal accurately.
5. Yomari
This dish has a special place in the Nepali community, so much so that they celebrate a special occasion called 'Yomari Punhi' during December. It is a Newari festival and marks the end of the rice harvest. Yomari is made from rice flour in the shape of fish dumplings, stuffed with a sweet molasses or coconut mixture. It has an extremely distinct texture and taste, something that we're sure you couldn't have tried so easily. However, they are hard to find outside the festival time but you may try your luck at The Village Cafe on Pulchowk in Patan.
6. Gundruk
This is an absolute favourite amongst the locals. The gundruk is essentially fermented leafy vegetables made into a pickle, lovingly referred to as Gundruk ko Achar. It can spice up any dal bhat meal and is the perfect pick-me-up as a souvenir for your foodie self.
Related: Chill At The World's Highest Café In Nepal For An Elevating Experience!
Written By