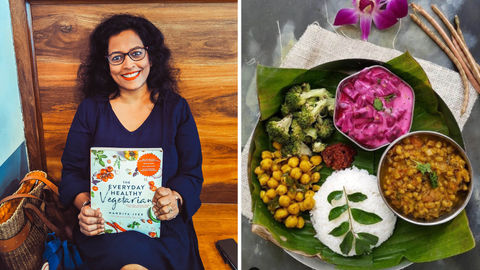 While we're quick to diss social media for its many cons, it does often come with its fair share of pros as well. One of the biggest advantages it affords a netizen is that of carving a life, and a career, based on their passion and interest. Just as it has with Nandita Iyer, a food blogger whose vegetarian recipes have literally traversed nations. Iyer's content is very niche, and she says that is exactly what has helped her connect with an audience who speak the same language. By Charu Chowdhary
1. From being a doctor to a full-time food and travel blogger – what propelled you into the blogosphere?
I wasn't much into cooking at all until my late 20s. Until then, I was only good at making tea and burning cakes in the oven. When I finally started cooking, I was a totally experimental cook, throwing a little bit of this and little bit of that in the pan. If the dish turned out good, I had no way of replicating it. As a method to the madness and keeping a record of my successful cooking experiments, I decided to maintain a blog, like a digital recipe book for myself. That's how I started my blog Saffron Trail in March 2006.
2. What do you absolutely love about being a blogger?
The thing I absolutely love is creating something in my kitchen today and tomorrow a whole bunch of people who love to cook could be trying out my recipe and feeding their loved ones. It's sharing the love for cooking. The other thing is having a platform to showcase your creativity, be it cooking, plating, writing, photography or all of the above. This results in getting a lot of opportunities in various fields. I even attribute the book deals coming my way to my blog.
The thing that I am still not a hundred per cent on board with is all the technical aspects of blogging such as keyword search, SEO, magazine cover grade images, and etc. All these take away from the joy of blogging for the love of it.
3. Do you use your expertise in medicine in your blogs?
My medicine and nutrition background does translate into healthy cooking and thereby inspiring my audience that healthy need not be boring and tasteless. I don't necessarily try to make healthier versions of all traditional recipes, but just incorporating a lot more fresh produce, seasonal ingredients and healthy cooking techniques in my everyday cooking and the same reflects on my blog.
4. What's your story behind making it a fully vegetarian blog?
Given that I am a vegetarian, that is by default the food I cook and therefore write about.
It's interesting how vegetarianism and veganism have spread a wider net across the world for health and environment reasons and I am happy to have that as my blogging niche. Being a vegetarian enables me to create beautiful recipes using seasonal produce, be it fruits, vegetables or grains.
I personally believe that it is good for bloggers to have a niche, so you know your audience and you are talking the same language no matter what you are writing. I believe sticking to a niche helped me get a book deal to write a book along the lines of my blog content. That is how The Everyday Healthy Vegetarian came about.
5. Your top five favourite vegetarian places to eat in India?
These are not necessarily vegetarian restaurants, but I have eaten very good vegetarian food here.
One of the seasonal thalis at Royal Vega, ITC Grand Chola
Burma Burma, Bangalore
Esplanade for Bengali cuisine, Bangalore
The vegetarian option of the tasting menu at Tresind, Mumbai
MTR, Bangalore, simply cannot get over their masala dosa
6. Which countries do you think, have options in the most gorgeous vegetarian fare?
My most recent trips to parts of the UK and Lisbon had me floored with the absolutely beautiful vegetarian food served in restaurants and cafes.
King's Arms, Stow on the Wold, Cotswolds, for the most amazing vegetarian Sunday roast
Hide, London, great salads
The Refuge/Public Bar, Manchester for a great variety of vegetarian and vegan small plates
The Mill, Lisbon, for great coffee and breakfasts
Arkhe, Lisbon, for the most stunning presented vegan food with big flavours
7. How do you manage to create fun and relevant content or a regular basis?
There are two ways in which I create content. And I move between both these methods depending on what appeals to me during a period of time. The first method is to do a keyword search and analysis, find out what people are searching for within my niche, which is healthy vegetarian cooking and cater to these recipes or subjects in my blog posts. This way I am fitting my posts to what my potential audience is looking for. The other method is table-to-blog, which means what I cooked for lunch or dinner often lands up on the blog because I feel that my audience will like this particular dish or find it interesting to try out in their own kitchens.
8. In your 12-13 years as a blogger, when did you actually start seeing your blog transitioning from a personal diary of sorts to a revenue-making professional blog?
As more people started reading my blog, I did scale back on the personal diary bit as I was a bit wary about putting my life story out there to every person on the internet. Also, with a little more knowledge about keywords and SEO, I learnt not to ramble on about the weather and how my grandmother makes the best sambar, but to focus on the topic on hand instead. Over the last six years or so, the brands have woken up to the power of digital marketing via blogs and social media, using bloggers with a voice to market their brands to the audience. However, over the last couple of years, I have seen a steep decline in brands asking for blog promotions. Instagram seems to be every digital agency's jam.
9. What's your favourite social media for interacting and engaging with your audience?
While my favourite social media for general banter, interactions and grabbing the latest news is Twitter, Instagram surely takes the cake when it comes to interacting with a food-loving audience. It is a platform I share more focussed content on food, gardening and recipes, and I find the audience most responsive to such content there.
10. What's your mantra for dealing with stress, uncertainty and financial instability that come as a package in this profession?
I feel lucky to be able to pursue something that I am passionate about. The passion for cooking and writing helps tide over stressful times. I am picky about the projects I work on, accepting only those that match my lifestyle and ethics. That is the upside and downside of being a freelancer. You get to choose what you do, but there are also lean times when there's not much work. When the projects are not many, I spend my time picking up a new skill. The cooking, writing and photography continue whether there is a paying project or not. It also helps to have a regular fortnightly column in Mint Lounge. I take refuge in doing up my home with the changing seasons, pottering about in my kitchen garden, coaxing my indoor plants to grow and practising Hindustani classical music. These help me keep a positive outlook.
Related: Here's Why Travel Blogger Archana Singh Prefers Instagram Over Twitter!
Written By