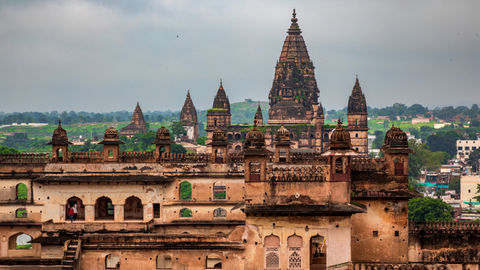 We were at the first edition of Namaste Orchha, a three-day festival initiated by Madhya Pradesh Tourism to showcase the cultural landscape of the central state of India. This quaint little temple town came alive with music, dance and heritage tours. By Shibani Bawa Orchha has been on the tourism map of India for a while now. The unique architecture of the Fort complex, the iconic Chaturbhuj Temple and the sight of centuries-old chhatris of erstwhile rulers by the banks of the Betwa river emerging over lush trees have been widely photographed and promoted by the state tourism board. We're told that almost one-third of the international tourists coming to Madhya Pradesh include Orchha in their itinerary. Orchestrating the Namaste Orchha festival is expected to further boost tourism in the region. Yasmin Kidwai, festival director says, "Namaste Orchha is more than just a festival. It is an attempt to put Orchha on the tourism map and, in the process, take the community along so that the development as a result of the tourism is sustainable." Gearing up for the festival also means further development in the form of new roads and pavements, fresh signboards, creating more homestays and a range of activities including river rafting; kayaking; helicopter and hot-air balloon rides; and safaris in the surrounding jungles, thus generating local employment as well. The inaugural evening of Namaste Orchha starts with a dance ballet depicting the story of Rudra Pratap Singh who shifted the capital of Bundelkhand to Orchha in 1501. This is followed by a spectacular sound and light show with a voice-over by actor Manoj Bajpayee. The grand Jahangir Mahal in the Orchha Fort complex serves as the perfect backdrop for the beautiful visual effects. The evening also includes performances by popular singer Shilpa Rao, acclaimed composer Clinton Cerejo, composer and lyricist Swanand Kirkire, santoor player Shruti Adhikari, and folk singer Prahlad Singh Tipaniya. Apart from performing arts, the festival includes a range of wellness and adventure activities, site-visits for photography, and business sessions hosted by Confederation of Indian Industry. The entire town is buzzing with palpable energy. A food and crafts bazaar has also been set up adjacent to the Fort complex to bring together the crafts of the Bundelkhand region and Madhya Pradesh. From Pithora to Gond paintings, Chanderi and Maheshwari weaves, Batik textiles, jute craft, terracotta and jewellery are all on display and available for sale. Author and food historian, Anoothi Vishal, has worked with local and celebrity chefs to curate bespoke menus for the festival. She has even hand-picked street food artists to serve local specialties at the bazaar. The following morning starts with a heritage walk through the famous cenotaphs or chhatris past the imposing Chaturbhuj Temple, and the legendary Shri Ram Raja Mandir. This temple, built in honour of Lord Ram, is the only place where he is worshipped as a God and as a king. As we walk past the Raja Mahal, Sheesh Mahal (now a heritage hotel), and Jahangir Mahal — which was built by Maharaja Bir Singh Deo in honour of Mughal emperor Jahangir's visit to the city — the stories of kings and queens transport us to the bygone era.
During this walk, we see how artist Anupamaa Dayal has enlivened the walls of the homestays with her kitschy art. She made multiple trips to Orchha to create a unique amalgamation of local art and motifs with her inimitable style. She picked up bird motifs from ancient monuments and combined them with styles of local art forms and painted them in vibrant hues. A walk-through the home-stays with her gives us a whole new perspective of this quaint town. Later at night, the maha aarti at the banks of Betwa river are a visual delight. It is followed by another musical evening under a baobab tree by vocalist Shubha Mudgal, fusion rock bands Indian Ocean and Mrigya, neo-folk music band Kabir Cafe, and French-Spanish musician Manu Chao.
Namaste Orchha is slated to become an annual event in the cultural calendar of Madhya Pradesh with hopes to help tourists rediscover this fascinating place.
Related: Orchha In Madhya Pradesh Could Soon Be Listed As A UNESCO World Heritage Site
Written By