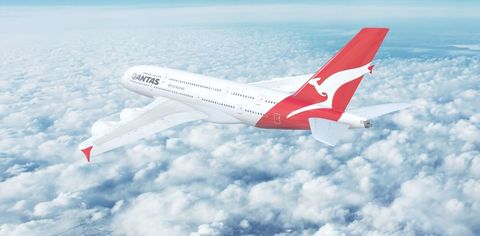 After flights to nowhere and flights to somewhere, Australia's Qantas has rolled out another experience in the series—mystery flights. We tell you more about this intriguing new adventure. By Bayar Jain
View this post on Instagram
As travellers, the biggest sore-point of yearning to fly again is probably finding it difficult to narrow down on a destination. Helping overcome this challenge is Qantas' latest mystery flights.
According to an issued statement by Australia's flag carrier, customers opting for the experience will not know where they are flying off to. Instead, passengers will reportedly be provided with clues to ensure the destination caters to their areas of interest and also facilitates in packing appropriately for the holiday. This move, the airline notes, is in sync with their aim of busting border blues, as was the case with their earlier experiences (flights to nowhere, and flights to somewhere) rolled out during more opaque travel restrictions.
The release states that three such mystery flights will be introduced from Sydney, Brisbane and Melbourne. The destinations, it hints, will be within two hours from each. The airline further suggests that the destination from Brisbane—departing on March 27—is ideal for gourmands and wine aficionados seeking country hospitality in the outdoors, while a mystery flight from Sydney—departing on April 18—is for salt water-loving folks looking to lounge on the beach in the tropics. Later in May, the mystery flight from Melbourne is for travellers who don't mind a little walking in the great outdoors and enjoy visiting regional farmer markets while savouring gourmet food and wine.
View this post on Instagram
Irrespective of where one chooses to depart from, Qantas assures a unique onboard flying experience. Further, the world's third-oldest airline states that the flights will also include low-level scenic flybys of key landmarks en route, weather permitting. Moreover, apart from just journeying passengers from one destination to another, the airline will also be planning an entire day of activities at the mystery destination.
Notably, the national carrier has operated mystery flights earlier as well. In the 1990s, travellers opting for the experience could turn up at the airport and be allocated a seat on any scheduled flight by Qantas. At the time, the passengers were free to spend a day at leisure at the mystery destination before returning.
Tickets for Qantas' mystery flights experiences go live mid-day today on the airline's official website. They are priced at USD 737 (INR 53,679) for the Economy and USD 1,579 (INR 1,15,007) for Business. This all-inclusive fare includes meals and alcoholic and non-alcoholic beverages, plus on-ground activities. Alternatively, members can redeem Qantas Points as well (2,400 points plus 40 Status Credits for Economy, and 5,000 Qantas Points earn plus 80 Status Credits for Business).
Related: After 'Flight To Nowhere', Qantas Airways Announces 'Flight To Somewhere'
Written By