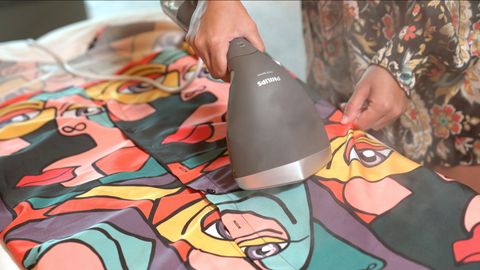 If you're someone who likes to step out in style, the compact and easy-to-use Philips Handheld Steamer 7000 series is your perfect travel partner. By Simrran Gill
While the travel checklist may vary from person to person, one of the prerequisites for everyone is looking their best when out and about. Travel blogger Ankita Kumar echoes this thought, and says the Philips Handheld Steamer 7000 Series is a must-carry on all her trips. "It is light and easy to store," she says, adding, "I can look impeccable on all my trips, wherever it is." With a host of features, the Philips Handheld Steamer 7000 Series lets you travel in style without having to worry about wrinkled clothes.
FAST AND EFFECTIVE For starters, the unique adjustable steamer head permits easy steaming both vertically and horizontally. And to facilitate extra precision, the device comes with a pointed steam plate tip. This also ensures that all creases are removed conveniently and effectively at any given angle. The continuous steam also ensures to reach tricky corners so you don't have to obsess over that collar or pleats while travelling. For times when you're in a hurry, the device's powerful steam comes to the rescue. It helps in swift de-wrinkling, with upto 28g per minute of continuous steam. And keeping in mind last-minute outfit decisions, the Philips Handheld Steamer comes with a fast-heating time of upto 30 seconds. A light on the device indicates when it is ready to be used. The device also comes with two settings: Eco, which helps in saving water without compromising on the steaming results, and Max, to provide more steam power. Keeping in mind the dynamic needs of travel enthusiasts, the steamer comes with two exchangeable water tanks of varying capacities—100 ml and 200 ml. The two exchangeable tanks ensure that your clothes are de-wrinkled in a single go.
SAFE AND COMPACT Another aspect that keeps travellers stress-free while using the device on the go is the OptimalTEMP technology. It guarantees no burns on any ironable fabric, even the delicate ones. The device has also been designed keeping safety and hygiene in mind. The two factors are well taken care of with the steam that kills 99.9 per cent of dust mites and bacteria. While de-wrinkling the clothes, the device also freshens them and removes odour by killing the bacteria. This feature is also compatible with soft furnishings, curtains, and toys. The Philips Handheld Steamer 7000 Series also does away with the requirement of a flat surface or an ironing board. Its unique and compact design make it compatible for use anytime and anywhere without compromising on the results. Its compact design also makes it easy to carry the device around easily, taking minimal space in your suitcase or backpack.
SUSTAINABLE AND DURABLE The all-encompassing Philips Handheld Steamer 7000 series has also kept sustainability in mind. It offers gentle care not just for your clothes but also the environment. Amongst its many impressive factors is durability, the appliance lasts upto 70 per cent longer, making it a smart buy. It also comes with a single touch scale removal that easily rinses off the scale, and there's also a generous 2.5-meter chord promising good reach.
View this post on Instagram
For more information, visit here.
Related: Philips Steam&Go Handheld Garment Steamer Is The Ideal Companion For Creasefree Clothes On Road Trips—Here's Why!
Written By