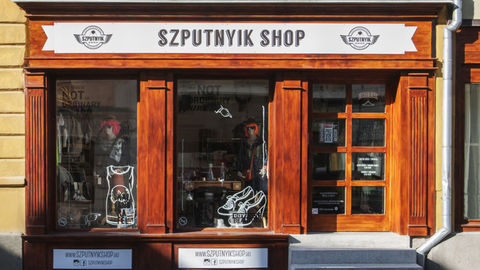 Do you fancy walking into a party looking like a character straight out of a Shakespearean drama? Are you forever in dilemma when casual get-togethers turn into Pirates of the Caribbean-themed parties? We've found 9 vintage clothing stores in Europe to help you travel through time. By Payal Das Szputnyik is a popular store among locals for the unique, affordable period pieces they offer. Add a dash of sixties to your modern outfit, or a hint on embroidered collars, a stark bedazzled shoulder, or fusion wear a la seventies. The store not only features brands from across the state, but produces their very own label of retro clothing, jewellery, and accessories. One of the must-buys at the store that boasts fancy vintage clothing and accessories for men only, is a French pilot's jacket from the sixties. This vintage shop has everything you need to go retro! From the typical sixties' vests to the fancy tie pins. If you're lucky enough, you'll walk out with a story behind your purchase. Are you a fan of retro Hollywood movies? If so, then this is a shop you cannot miss if you are in Scotland. This is a vintage wonderland owned by a woman who has furnished the store with clothes from her personal wardrobe! So, she knows exactly where each item is from, which year she bought them, and the stories behind each. The highlight of this shop is the beautiful collection of vintage turtle neck blouses and wide-leg trousers that date back to the 1800s! You can call this a thrift shop, since it sells fashionable second-hand clothing and jewellery for women, men, and children, alongside their new line. The concept behind De'Žavu is that since all the vintage clothes in the store have their own story, it is the customer's choice to either start afresh (with the new line of clothes) or play a part in the journey that the second-hand clothes are on. The vintage caped coats for men and the buttoned bustier tops for women are the top-buys here. If you're looking for one-of-a-kind pieces, Blue Rinse Vintage shop tops the list. At the very end of Oldham Street in Manchester, this boutique has gained popularity for housing the largest collection of vintage and reworked items in the UK. One of the best-kept secrets at the store is the pop-up shops it sets up at Sachs Hotel right next to it, every weekend. If you're lucky to be here on the weekend, you can pick so much as one kilogramme worth of skirts, dresses, shirts, trousers, coats, jumpers, and accessories at just Euros 15 per kilogramme! The crystal embellished feather bags are a must-buy here. Think Twice, in Antwerp, has three outlets around town, each featuring its own collection of retro-to-go! It has a monthly special sale where you can get all the items at up to 30% and 50% discount and on certain days of the year, you can even get each piece in the store for 3, 2 and 1 euro! Our favourite pick from the store was a nineties' front draped swimsuit for the girls and the rare Levi's 501 jeans for the boys! SiTenne, literally translating to "we have kept it," totally justifies the name with a showcase of clothes that date between the twenties and the nineties! It is a place that both men and women fall in love with. The best buys include short-sleeved knitted dresses and plaid skirt dresses for women and loose-fitting drawstring trousers for men. A great USP is that you can not only buy clothing here but also hire them for a night out with friends.
Play it again Sam, Helsinki A cool vintage shop where you will find extraordinary clothes, shoes, bags, purses, and even wigs from the 1920s! You can simply walk in here to hire some clothes for the night if you don't wish to make a purchase. This store also sells souvenirs, such as block pyramid heel sandals and the checkboard suits for men. Seventies platforms, flapper girl heels, jazzy bell bottoms or the retro plaid suits? Head to Šmizla, the only vintage shop in Belgrade, located in a ground floor apartment on the quiet Dorćol Street. Our list of things to buy here, is an endless one. From kimonos, leopard coats fit for the Golden Age of Hollywood, to military overcoats for men and women, everything is available here. If you're just here to buy a souvenir, we suggest, get a printed silk scarf.
Written By