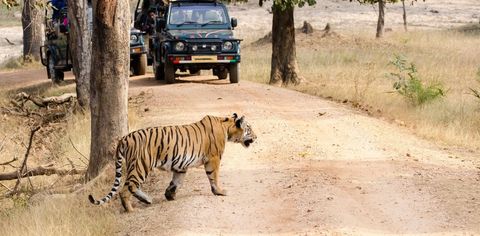 MP Tourism has now added night safari facilities at three national parks, giving us all the more reasons to plan a trip to India's heartland. By Kumar Shree
MP Tourism has introduced night safari facilities at three national parks in the state, namely Bandhavgarh National Park, Kanha National Park and Pench National Park.
View this post on Instagram
Traditionally, safaris are a day-time activity reserved for when there's enough natural light for visitors to spot wild animals in their natural habitat while also feeling safe, alongside. However, this takes away the opportunity of coming across nocturnal animals in the dark. These night safaris will allow for this. Visitors will get to witness multiple elusive animals such as spotted deer, Royal Bengal tigers, Barasinghas, owls, peacocks, eagles, and many more during these safaris. Of course, the darkness will add another element of mystery to the experience as well!
Since night safaris are relatively new in India, it comes paired with concerns over tourist and animal safety. After all, it seems invasive to disturb animals' privacy at night. However, MP Tourism has already taken this hurdle into account before rolling out the programme. For this, they have chalked out well-researched routes to ensure that no animal or human is harmed in any way during the night safari tours.
View this post on Instagram
Bandhavgarh National Park will conduct these tours from 6:30 pm to 9:30 pm, whereas Kanha National Park's night safari schedule is from 7:30 pm to 10:30 pm. And, Pench National Park will be conducting these tours between 5:30 pm and 8:30 pm. Those who wish to experience the same can book their tickets on the Wildlife Safari Reservation portal run by the state's forest department.
Related: Inspired By Netflix, Here Are 4 Indian States Where You Can Spot The White Tiger
Written By