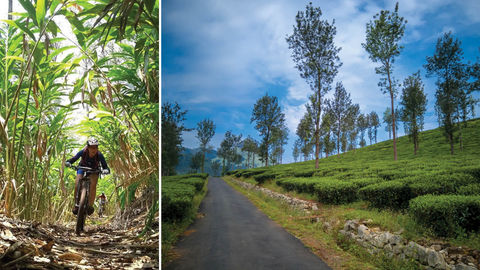 The sixth edition of Mountain Bike Kerala will be held in Wayanad on December 21 and 22 this year and will have top cyclists from different countries participating in the contest. By Ritika Dixit
The mega biking event, Mountain Bike Kerala, will display the skills of biking professionals and amateurs from India as well as abroad. This racing event is scheduled to be held at the Priyadarshini Tea Environs in Mananthavady, Wayanad on December 21 and 22. The contest is hosted by the Kerala Adventure Tourism Promotion Society of the Kerala Tourism Department, in collaboration with the Wayanad District Tourism Promotion Council and the Cycling Federation of India.
The success of Mountain Bike Kerala in its previous editions has successfully put Kerala on the global map for mountain biking. According to a press release, Mountain Bike Kerala is the first mountain bike race in India to be featured in the Mountain Bike Race Calendar of Union Cycliste Internationale, a Switzerland-based governing body for sports cycling and oversees international competitive cycling events.
This year's race will be held in three categories, namely, International Cross Country, National Cross Country — Men, and National Cross Country — Women. In a debut feat this year, an additional race for amateurs, titled Fun and Thrill Challenge has been included in the schedule. Like the others, this too will have separate categories for men and women.
This year, the renowned mountain biking event will be as thrilling and exciting as it can get. Participants will ride through terrains of dirt, rock and water stretched over five kilometres at an altitude of 3,000 ft. With thrilling power-packed performances and a fabulous adrenaline high, the winners will be awarded cash prizes.
Related: Read Candida Louis' Inspiring Story Of Biking From India To Australia
Written By