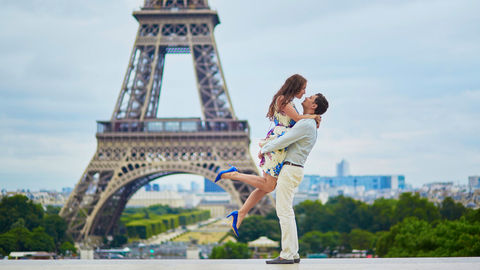 So, the two of you have been together for some time now and feel like it's time for the question, how about doing it at one of these most romantic places in the world! By Shubhanjana Das
1. Paris, France
For the die-hard romantics and the old-schools who swear by the classics, the base of the Eiffel Tower in Paris when it's glittering with as many lights as there are stars in the sky is THE perfect choice. It can never go wrong.
2. Svalbard, Norway
Who needs artificial lights when the sky itself lights up in surreal colours with the Aurora Borealis? While there are multiple locations to witness the Northern lights, Norway has to be our top choice. Set up your own tent and wait for the sky to go ablaze with colours till you go take the ring out. However, remember, that you only have time from November till February to be able to plan something like this.
3. Ashford Castle, Cong, Ireland
What better place than a castle to start off your fairytale together? The Ashford Castle in Cong, Ireland is known to every romantic and fairytale lover who wants nothing but the most perfect setting to experience the moment that is going to change two lives forever. This medieval castle from the 13th century offers lake cruises and horseback riding, has the dreamiest rooms inside the property along with clawfoot bathtubs, fireplaces, and decanters to help you set the mood right.
4. Bora Bora
The best way to pack that proposal surprise is in the name of a vacay, and what better place than the idyllic and dreamy golden beaches of Bora Bora to take your beau away? Book a subnset cruise and when you've left the land far behind, that's your queue to go down on your knees.
5. Puerto Mosquito, Puerto Rico
If you want your proposal to be dramatic and the pictures just as unimaginably surreal, the Puerto Mosquito is as picture perfect as it can get. It has been named the most bioluminescent bay in the world by the Guinness World Records and a proposal here at night, when it feels stars are touching your feet with every soft wave crashing at the shore, is one to be remembered for a lifetime.
Related: 2019 Wedding Trend Alert! Top 5 Romantic Beach Wedding Destinations In Southeast Asia
Written By