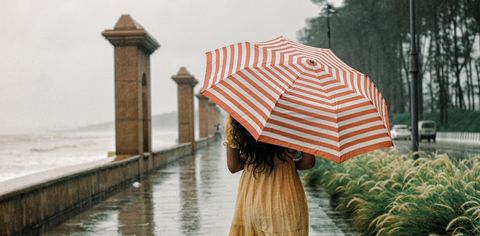 Monsoon is one of the best times to explore this majestic land of ours. Travelling through lush green, petrichor-scented, and mist-laden landscapes awash with fresh rains is therapeutic. But the rains could be a tad troublesome in a lot of ways. From snarled-up traffic to unexpected fever to bug bites and an upset tummy, travelling in monsoons comes with its own set of challenges. But that should not dampen your spirit to experience India at its scenic best. This is why we have curated a list of quick monsoon travel tips for our readers. By Karan Kaushik
Keep these monsoon travel tips in mind while planning your next trip
Essential things to pack First things first. Before you embark on a monsoon trip, packing the essential stuff is of utmost importance. This is what your checklist should look like:
Umbrella and raincoat
Mosquito repellant
First-aid and medicine kit, including disinfectant scrubs and adhesive bandages/plaster
Torch/Headlamp in zipper
Powerbank
Raincover for backpack
Extra dry bag
Hand towels
Reusable water bottles
Extra pairs of shoes and socks
Emergency snacks
Waterproof makeup and anti-frizz hair products
Waterproof luggage
View this post on Instagram
A waterproof bag is essential during monsoon trips. You really don't want your clothes and important stuff getting moistened again and again. And waterproof bags are not all that expensive, tbh. If you have made last-minute plans, you can also cover your luggage using waterproof rain covers.
Check the weather forecast It's advisable to keep a track of the weather on a regular basis. Check the weather forecast at regular intervals to avoid any last-minute setbacks. No destination is as beautiful as your life. Check the weather forecast, especially in hilly areas since they are prone to landslides and cloudbursts. If it has been raining incessantly, check the forecast before choosing to stay longer or moving further to another destination. Listen to the weather updates on the local radio before planning your itinerary for the rest of your trip.
Pack synthetic clothes
View this post on Instagram
Synthetic fibres like Polyester, nylon, spandex, and rayon are not as porous as cotton. This prevents them from getting wet like other fabrics. Their ability to dry faster prevents fungal infections and body rashes. It's best that you pack dark-coloured clothes. Your mud-stained whites and beiges will give you a hard time washing them after your trip.
Choose the right footwear
View this post on Instagram
Remember that trek where you almost fell into a deep valley because of the mossy path? Travelling to natural destinations in monsoons could end up being a nightmare if you don't have the right shoes on. Waterfalls, riverbeds, hills, trekking routes, and rugged terrains could get way too slippery during monsoons because of mud and moss. Pack waterproof and water repellant shoes, especially when travelling to areas that get heavy rainfalls. Brands like Decathlon and Woodland are your best options.
Avoid street food
View this post on Instagram
We understand that monsoon is incomplete without those crispy onion fritters. But, you really don't want your trip to get ruined because of a sluggish digestive system. Eating contaminated food can cause the tummy bug, medically known as gastroenteritis, which involves an infection of the bowel. Eat only at decent and hygienic restaurants and eateries. If you are feeling peckish and are out of packed snacks, nibbling on a freshly-baked bhutta (corn cob) could be a safer option than consuming deep-fried stuff. You will have the rest of the year to savour those alu tikkis and gol gappas.
Protect your gadgets
View this post on Instagram
Who would believe that you visited Cherrapunji or took the Harihar Trek in Maharashtra if you don't have visual proof? Jokes aside, our gadgets help us in many ways during our sojourns. They keep us safe, they help us record memories of a lifetime, and they keep us connected with our loved ones and the rest of the world. It's important to keep them safe.
The easiest way to protect your gadgets from the rains is by keeping them in an airtight ziplock pouch or a waterproof bag. If you are carrying your laptop too (we understand it dude), pack it in a waterproof cover or bag. For your smartwatches, use waterproof wristband covers. Seal the USB port and headphone jack of your phone with duct tape and cover the phone with a waterproof case.
Feature and hero image courtesy: Shutterstock
Related: Waterfalls In India That Are At Their Majestic Best During Monsoons
Written By