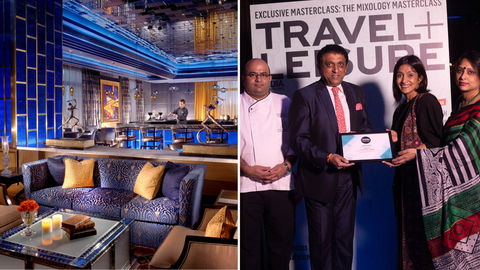 Between views of the calming ocean waves,

the uniquely modern ambience of a stunning hotel and the wonderful group of the city's top shots who were present at the event –Travel + Leisure India & South Asia's most recent masterclass in collaboration with The Leela Palace Chennai – 'The Mixology Masterclass', was a day filled with a lot of delicious cocktails and a whole lot of fun. By Amitha Ameen Priding itself in being the only sea-facing modern palace hotel, The Leela Palace Chennai saw a great number of people turn up for the event, despite it being a weekday. Aptly named Library Blu – the venue for the evening's soiree was a beautiful lounge bar with different hues of blue, featuring a mix of modern and English interiors. The most noteworthy feature of the bar though was the unobstructed 180-degree views of the Bay of Bengal, which made guests fall even more in love with this grand hotel. The evening saw a group of well-trained mixologists from the hotel 'show-off' their skills with flair. A lot of twirls, throws and catches and whizzes kept the guests entertained, amused and most of all delightfully surprised by the unique pairing of cocktails and one-bite wonders that kept making the rounds through the evening. Guests were even more delighted during the mixology games, where a handful of people were encouraged to showcase their bartending skills to the crowd. If we had to put together the top three highlights of the day, they would be — the breathtaking venue, the handcrafted cocktails, and the happy, enthusiastic faces. Not to worry, we've got you guys covered with exclusive recipes from the masterclass which you can recreate at home and woo your guests with during house parties.
Goose Bumps Ingredients
Infused whiskey – 60 ml
Gooseberry juice – 30 ml
Cinnamon syrup – 15 ml
Angostura bitters – 3 drops
Method
Shaken
Glassware
Glass bowl
Garnish
Orange cinnamon
Best Paired With:

Neer Dosa taco filled with Chettinad prawns and coriander gelo
Southern spiced prawns with flavourful mini dosa served with refreshing mint gel pairing well with the oak flavour of the whisky.
Swagath Ingredients
Vodka – 50 ml
Sambuca – 10 ml
Betel leaves – 2 leaves
Gulkand – 1 tsp
Cardamom – 4 pcs
Method
Shaken
Glassware
Margarita glass
Garnish
Betel leaves, gulkand and maraschino cherry.
Best Paired With:
Delhi 6 wall Old Delhi chats served our way inspired by the flavour of betel leaves.
Pazhamudhir Cholai Ingredients
Infused vodka – 45 ml
Peach schnapps – 15 ml
Lychee juice – 30 ml
Method
Shaken
Glassware
Martin chiller
Garnish
Strawberry
Best Paired With:
Edible Flower bouquet
As the word pazhamudhir suggests, the fruit market complementing the freshness from various autumn flowers with a subtle taste of pecorino cheese.
Double Dose Ingredients
Whiskey- 30 ml
Dark rum – 30 ml
Saffron & Dates syrup – 45 ml
Lime juice – 15 ml
Egg white – 15 ml
Method
Shaken
Glassware
Margarita glass
Garnish
Marygold flower
Best Paired With:
Telangana Lamb chops with curd rice ravioli Pulled Telangana spice lamb with new-age curd rice pairing well with robust flavour from dark rum.
Tavar Saaru Ingredients
Infused gin- 30 ml
White wine – 120 ml
Cinnamon syrup – 10 ml
Method
Build-up
Glassware
Brandy balloon
Garnish
Thyme, black pepper and cherry tomato
Best Paired With:
Textures of Potato
Humble potato served threeway with the dash of truffle oil perfectly paired with rosemary and thyme.
Written By