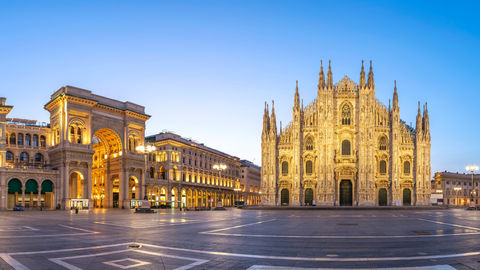 Editor's note: The global COVID-19 crisis has left each one of us deeply affected and we want to help. Burda Media India has organised a fundraising campaign to #FightBackWithTesting and donating RT-PCR test kits to the worst-affected areas in India, which will be secured from our testing partner Mylab Discovery Solutions. You can help these kits reach many more by donating for the cause or by adopting a kit. Click here to join the fight.
After fighting an intense battle against the COVID-19 pandemic that affected over 2,00,000 Italians, the financial hub of Italy, Milan has announced an ambitious plan to reallocate street space occupied by cars for activities like walking and cycling. By Upasana Singh
The northern Italian city of Milan and the surrounding Lombardy region have been among the hardest-hit regions by the Coronavirus outbreak. During the nationwide lockdown, one of Europe's most polluted cities witnessed blue skies and cleaner air. Motor traffic congestion dropped by 30 to 75 per cent amid the lockdown and resulted in the lack of air pollution as well as reduced nitrogen dioxide levels that plummeted by 24 per cent in the last month.
View this post on Instagram
In efforts to transform Milan into a climate-smart city and give a promising future to its residents, the city officials hope to avoid a resurgence of car use, as citizens are returning to work and looking to avoid busy public transport. The Strade Aperte or Open Streets plan has been announced to create 35 km cycling routes with a rapid, experimental citywide expansion of cycling and walking space.
By the beginning of May, work is scheduled to start on one of the city's most important shopping centres—an 8 km stretch of Corso Buenos Aires. Another location includes a neighbourhood on the site of the former Lazaretto, a refuge for victims of plague epidemics in the 15th and 16th centuries. With new cycle lanes and expanded pedestrian pavements, work is expected to be completed by the end of summer.
The project comes after a recent GIS analysis of street space in Milan revealed that many streets in the city do not provide enough space for pedestrians to follow safe social distancing rules. This highlighted the need for wider footpaths and more space for people in the Italian city.
View this post on Instagram
With COVID-19 restrictions lifted, Milan is being reimagined in the new situation. The small and dense city has a population of over 1.4 million inhabitants, 55 per cent of whom use public transport to get to work. The Strade Aperte plan aims to reset the city, taking a fresh look at streets to make it possible for people to roam around safely. The project has been inspired by New York City's transportation system.
Authorities believe that the reduced use of cars will ensure fewer traffic jams that will help everyone in the long run.
Related: Fashion Designer Amit Aggarwal Pens Down A Heart-Warming Tribute To Italy
Written By