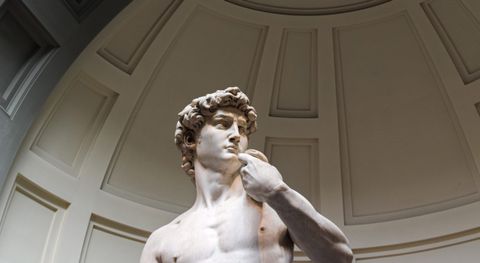 Legend has it that Michelangelo created a series of artworks in a secret drawing room in 1530. That underground drawing room, located under the Museum of the Medici Chapels in Florence, is now open for public viewing for the first time.
According to the legend, there was an underground corridor that Michelangelo used to hide in for two months to escape the death sentence from the Medici family in 1530. During that time, the passage was mainly used for coal storage until it was unearthed in 1975 with the discovery of charcoal and chalk drawings. The walls were depicted a series of human figure sketches; nudes, faces, and different body parts.
Michelangelo's secret underground drawings open for public viewing
Because of the evidence of the drawings' resemblances to the David statue and The Fall of Phaeton, the director of the Medici Chapels at the time, Paolo Dal Poggetto, attributed the drawings to Michelangelo. Although some experts disagree with the census, it is believed that at least a part of it was created by Michelangelo.
The 33-foot-long secret drawing room is now open for public viewing until March 30, 2024, at the New Sacristy in the Museum of the Medici Chapels in Florence, Italy. The room only allows 100 people at a time, in one 15-minute interval.
Experience the secret underground corridor yourself. Book your tickets to the Medici Chapels here.
(Main and featured image: Mateus Campos Felipe/Unsplash)
This story first appeared here
Related: This Overlooked Region Of France Has Charming Bistros, Historic Towns & Great Museums
Written By