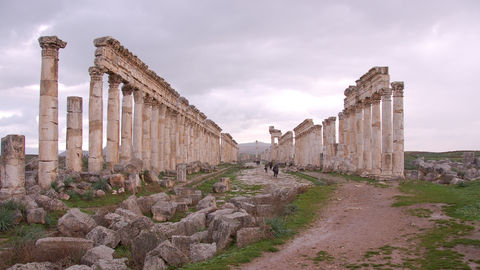 That life existing prior to us is something we know only via the remnants of civilisation left behind by our ancestors. By Quoyina Ghosh
A close study of that bygone period reveals a lifestyle quite like ours in various ways. Perhaps this is what makes civilisation so unique a topic. It is a gentle reminder of the absolute miracle that life is. It existed before us, it is existing now and it will continue to exist in diverse forms even long after we're wiped off from this planet. Here are some of such mesmerising ruins that will definitely get you thinking about the stunning nature of life.
If anyone fancies a dive into the waters off the shore of Alexandria, they should brace themselves for two stern sphinxes guarding the ancient palace of Cleopatra. This city is known to have vanished around some 1,300 years back in the day but back in 2012, archeologists stumbled upon majestic ruins of this submerged palace and temple of Cleopatra. A wealth of artefacts dating back to the time of Cleopatra have also been recovered from the spot.
An ancient Greek and Roman city, Apamea, is still standing and is renowned for being home to the largest Roman theatres with the capacity to seat up to 20,000 people. It is also known for the great colonnade, which is known to span over 2 km. Due to the political turbulence of the area in which this grand civilisation rests, it is known that the site has been plundered and robbed of its many artefacts by treasure hunters.
Known for the stunning organisation that is so blatantly visible in the architecture of their city, this civilisation isn't one that can be forgotten easily. The planning that went behind their cities is very interesting to look at since their architectural ideas are such that they match the current architecture in how modern it truly is. Their seal coverings, which have been uncovered are also extremely beautiful to look at. To this day, studies are still on regarding this civilisation since it is that rich.
One of the oldest cities there is, Pavlopetri is some 5,000 years old and found off the coast of Laconia. It is said to have drowned due to an earthquake back in the day and subsequently never recovered. Research revealed it to be a once booming centre of textile trade. It was also supposedly a major trading port back in the day. The next time you're bored in Greece, here's an entire civilisation you can explore in your free time.
The mystery of how or why this place was abandoned has still not been figured out. It is situated in such a place that nestles it from the elements around it, thus keeping it preserved. This dwelling near Arizona is said to date around 1300 AD with Puebloans inhabiting it back then. While tourists don't frequent this place too often, it cannot be denied that this Native American dwelling is one that is an extremely interesting sight to behold.
Related: Here Are 5 Fascinating Underwater Ruins That You Didn't Know About
Written By