With the holiday season right around the corner, hotels across the nation are diving deep into the merry-making vibe. Head to these happy havens to add an extra dose of sparkle to your Christmas, and magic to your New Year festivities. By Bayar Jain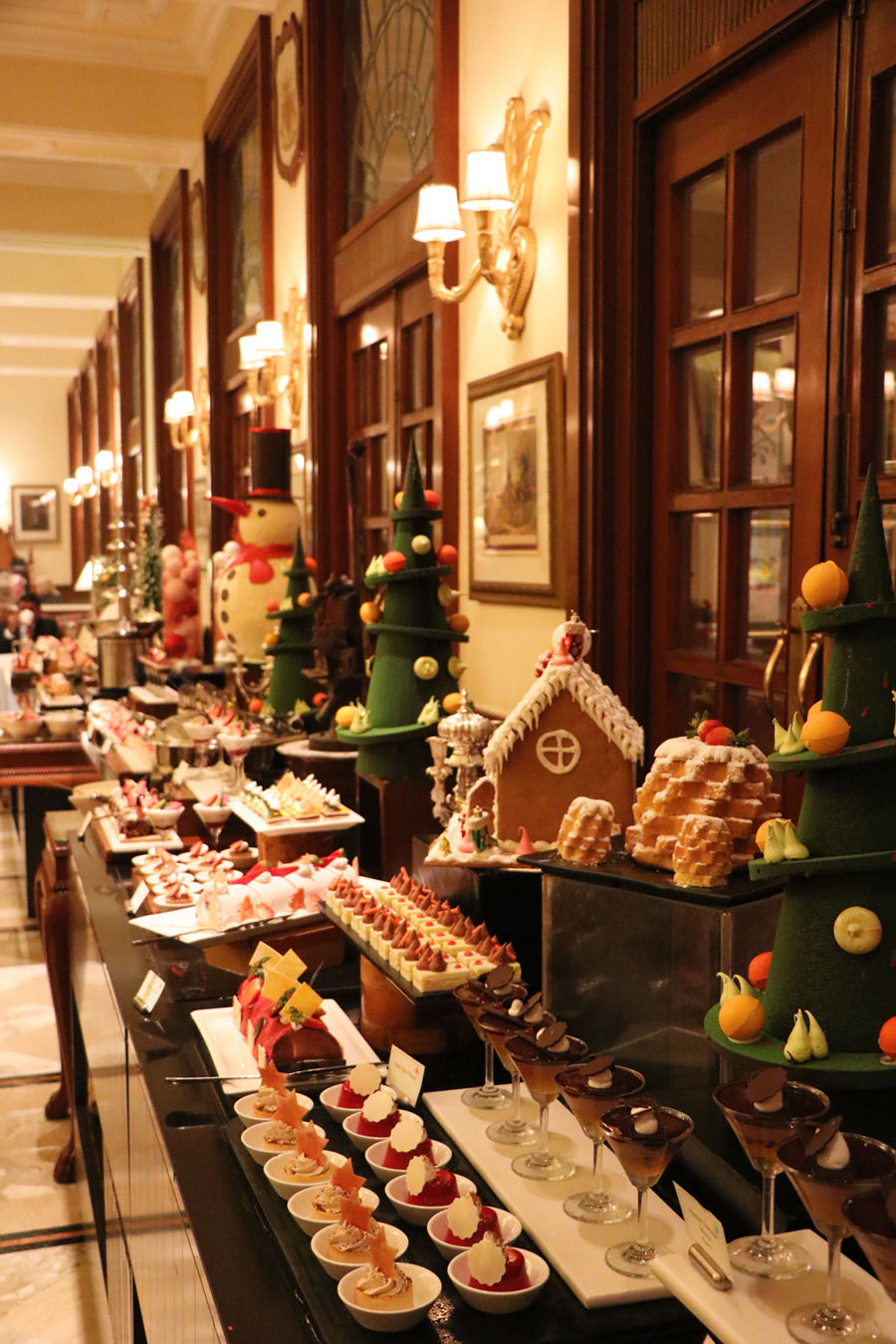 If a five-tier Christmas Charlie adorning the lobby here isn't enough to get you in the Christmas spirit, then the accompanying music boxes, miniature fairies, poinsettias, snowdrops, and characters from children's fairytales are sure to do the trick. While here, join the hotel's master chefs — spearheaded by Executive Chef Prem Kumar Pogakulav — for an exquisite Christmas eve dinner buffet at the 1911 Restaurant. You'll be greeted with an array of delicacies like roast turkey, pork loin in a blanket, shepherd's pie, prawns tossed with Thai sweet basil, Italian specials, salads, desserts and a lot more. If you have any space left, head to the sun-kissed 1911 lawns for an equally lavish Christmas brunch on December, 25. As you gorge on dishes like roasted lambs; lemon couscous; ricotta and spinach fillo packs; spiced apple mousse; and plum cake, Christmas carols echoing the environs will escalate the jolly atmosphere further. Don't forget to stop by at their patisserie La Baguette ,where indulgence reaches its epitome, thanks to a list of goodies put together by Pastry Chef Sandeep Kanojia and his team. Guests can even end the year with a bang, courtesy a New Year's Eve dinner at each of their restaurants. While 1911 boasts of a dinner buffet replete with delicacies like seared yellow fin tuna nicoise with quail eggs, and tenderloin picattas, San Gimignano presents delectable a Tuscan Italian fare to choose from. On one end, The Spice Route will embrace epicureans with South East Asian delights by Chef Veena Arora, on the other end Daniell's Tavern –- their Pan Indian restaurant, will offer an exclusive year end celebration with the taste of ancient India. The celebrations will extend to the New Year with a world cuisine brunch buffet (paired with champagne!) at 1911.
At Leela Palace, Chennai celebrations last more than a day. Starting with a decedent feast for Christmas Eve dinner, the hearty foods weave their way to the Christmas Brunch as well. Both the meals make space for an international buffet with free flowing beverages, while keeping the magic alive. Closer to 2020, done a glamorous avatar and sip onto a selection of international beverages and unique cocktails at the Library Blu here. Pair this with a plethora of cuisines, courtesy their handcrafted set menu at their speciality restaurant China XO and Jamavar. For the ones looking to bring usher the New Year with international flavours, head to Spectra for a scrumptious meal. However, with Christmas being dubbed as the festival of giving, The Leela Palace Chennai steals the cake — almost literally! While here, select from their many sweet surprises at The Cake Shop, or gift a blissful spa experience to your loved ones.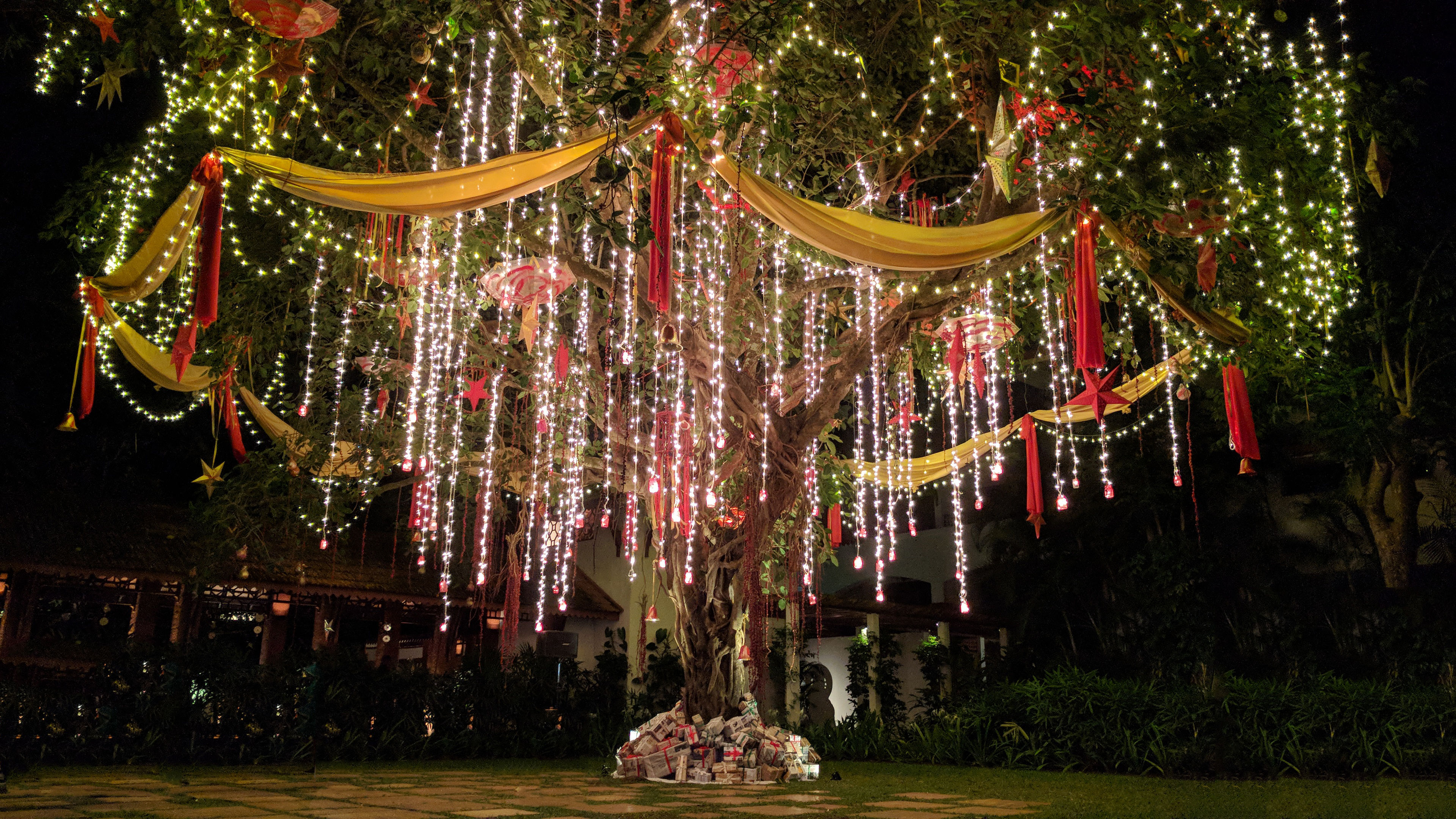 Goa is known for being the city of celebration, and no one understand this better than Alila Diwa Goa. The party, here, starts well in advance; as far back as December 14! Starting with an eco-friendly Christmas-tree lighting up ceremony — adorned with sustainable decorations — on the first day of the celebrations, the party then converts into a Christmas Family Fair on December 22. While the kids keep Santa and his elves occupied, all the mommies and daddies can indulge themselves with the unlimited barbecue and beer, all while simultaneously satiating their inner shopoholics. Next, celebrate a starry Christmas under the open sky with a gala buffet dinner and live music. Keeping the season's essence alive, their chefs will curate an artisanal spread of live grills and roasts, paired with a glass of house wine. Spend the following day with an unforgettable feast, which would include traditional Yuletide specialties. And, of course, the festive live music is sure to put you in the Christmas mood! If this wasn't enough, bid adieu to 2019 over a lavish dinner spread featuring multiple buffets and live cooking stations that are sure to take your taste buds on a culinary adventure around the world.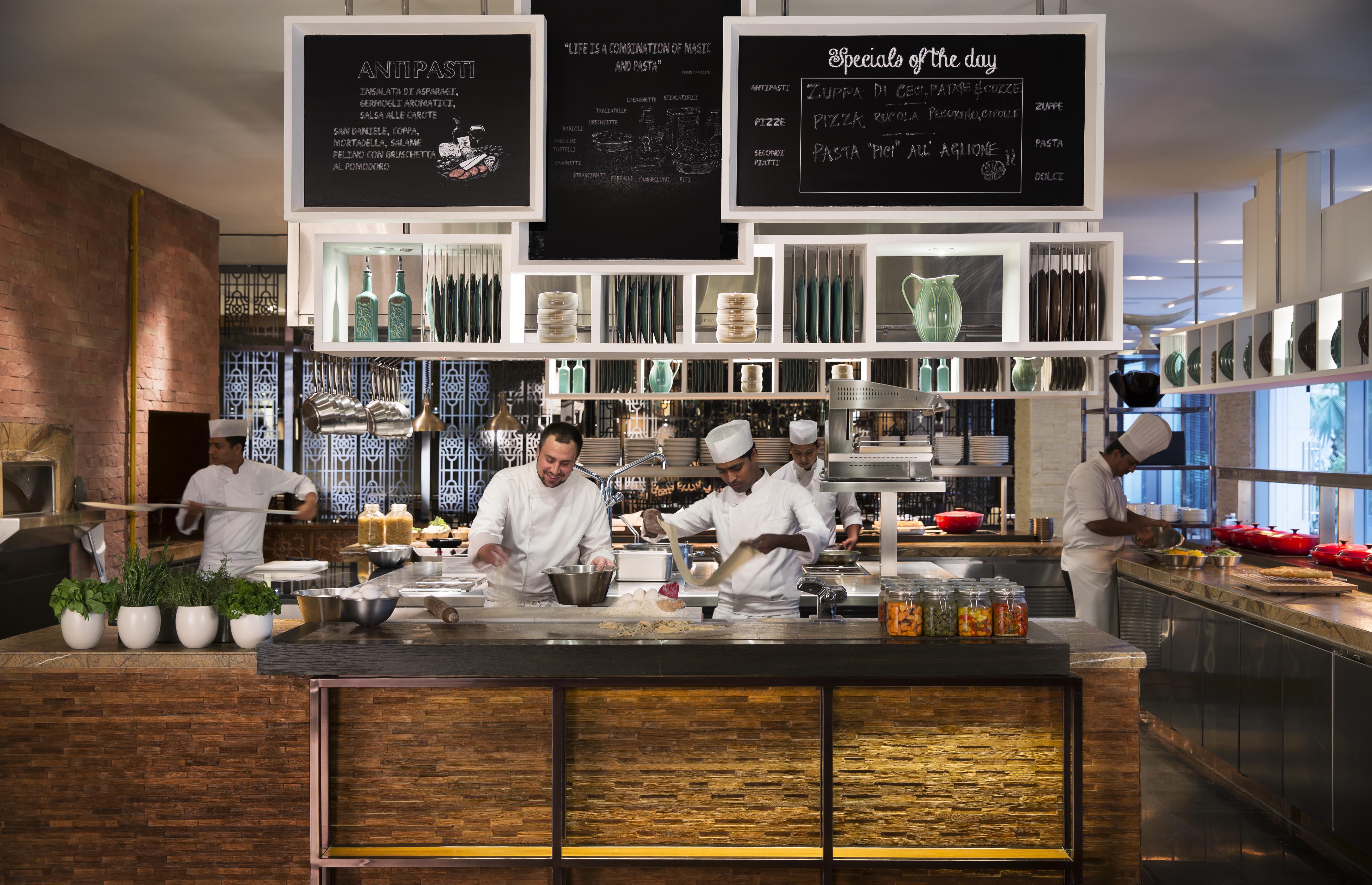 Already a popular destination for elaborate buffets, K3 — New Delhi's Food Theatre at JW Marriott New Delhi Aerocity is to set to reassert their spot with a specially curated Christmas Ever Dinner, and Christmas Brunch. Keeping in line with their signature theatrical displays, the meals will be accompanied by a display of chefs in action at the three live kitchens here. Choose from an array of dishes from Cantonese, Tuscan, and Indian cuisines — all prepared by their three master chefs — while serenading to the tunes of live music. You can also indulge in the elaborate dessert buffet which will feature traditional Christmas cakes and puddings, to even scrumptious cookies and chocolate confections.
For eager souls who get into the holiday spirit the moment the calendar turns to December, don't worry. JW Marriott has you covered! They are even hosting PHULKARI – Festival of flavours, a food festival celebrating delectable recipes from Amritsar, courtesy the famous Bittu Meat Wala. This festival, however, ends on December 22, so hurry!
When in New Delhi during the holiday season, Leela Palace New Delhi is the place to be! Celebrate Christmas Eve with a host of fun filled merriment at The Qube. Here, a lavish dinner of thoughtfully curated delicacies is sure to fill your heart with the warmth and glow of the festive season. The following day, during Christmas, the same restaurant will metamorphosise into a space of classy gastronomic adventures. When here, you can immerse into the merry-making vibe with a champagne brunch, backed by the soothing melodious of a soul-stirring violin performance. A similar undertone of musicality will entrance you closer to 2020. At Leela Palace New Delhi, you can choose to chime in the New Year with a bespoke dining experience at The Qube as live band performances are sure to keep your spirits up, or even indulge in an Italian gourmet experience paired with select drinks set against the tunes of a live band. At the same time, The Library Bar will be offering an à la carte menu, while Megu's intimate atmosphere will bring a splendid spread of authentic Japanese delicacies paired with a handpicked sake collection to the table. If the party-animal in you isn't satisfied yet, then you can even celebrate the first day of 2020 by joining them over a lavish brunch featuring a select champagne collection. Live barbeques, seafood stations complemented by a premium wine collection complete the food extravaganza here.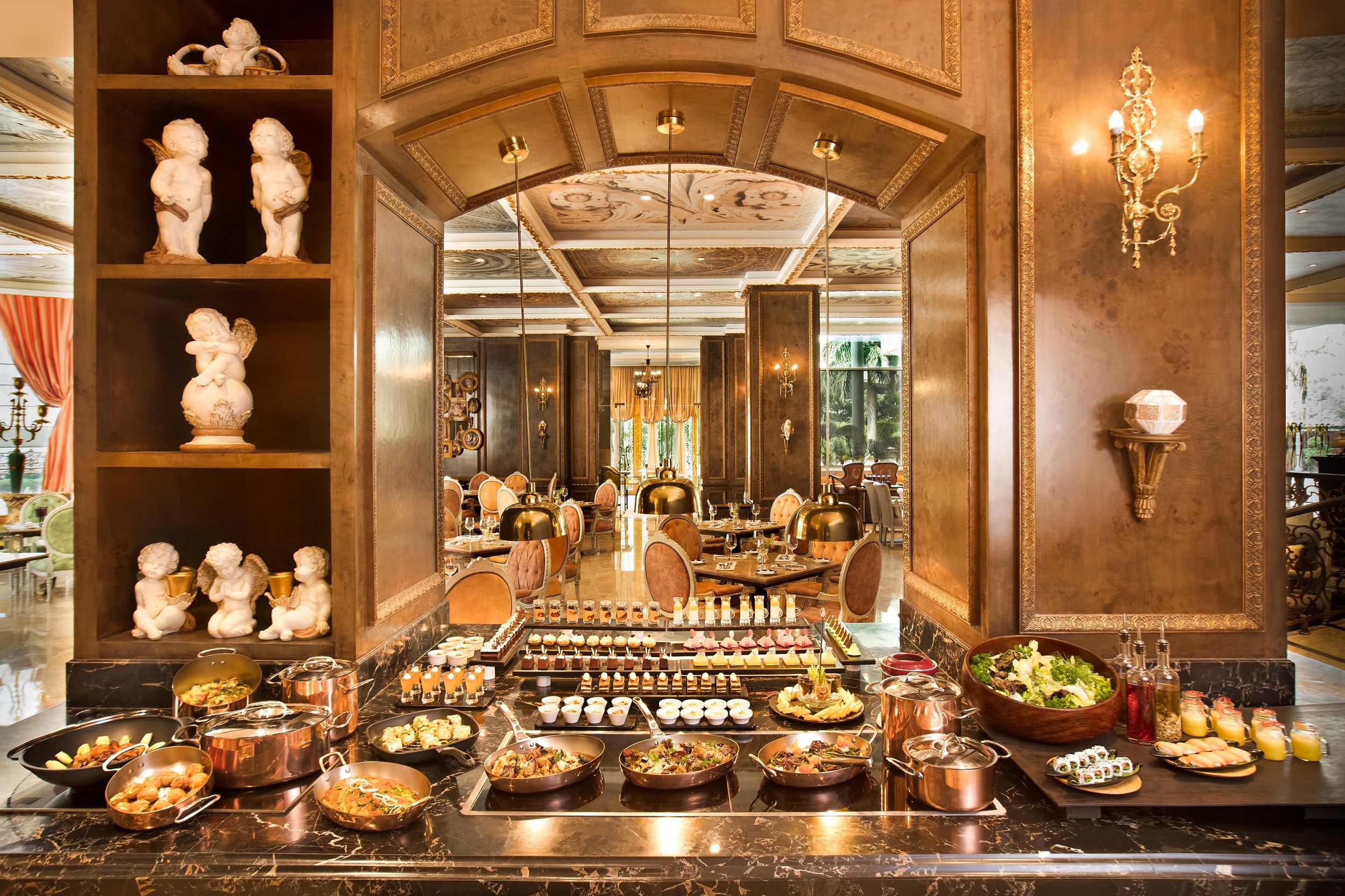 Radisson Blu MBD Hotel Noida is celebrating the holiday season with its own panache. For Christmas Eve, the dedicated chefs here have crafted bespoke festive menus with some of the most loved flavours at their speciality restaurants, Made in India and R.E.D. SXVIII, their all-day brasserie, too, is offering a sumptuous Christmas Eve dinner, and a Christmas brunch, both of which will showcase their lavish buffet crafting prowess. The party, however, is incomplete without a mention of the booze. The @links bar here will also be offering a selection of delightful Christmas drinks. Now that's what we call an all-rounded celebration!
The elves at Sheraton Grand Bangalore have been busy creating the ultimate winter fantasy, and they've done a splendid job. While on December 21, all party lovers are invited to groove to festive beats at HIGH Ultra Lounge, a treasure hunt and carol singing at Feast the next day will definitely elevate the holiday spirit further. The merriment, then, will continue on December 24 where a Christmas Eve dinner paired with sangrias and mulled wine at Bene and The Persian Terrace. Santa's big day will be welcomed with a delicious serving of merriment at Feast, where your munchkins can keep engaged with a range of fun activities, and you can dive deep into a delicious Christmas Brunch.
However, the festival is all about the joy of giving, and Sheraton Grand Banglore understands this well. Aware of this, they even have Christmas hampers; all designed for your special loved ones!