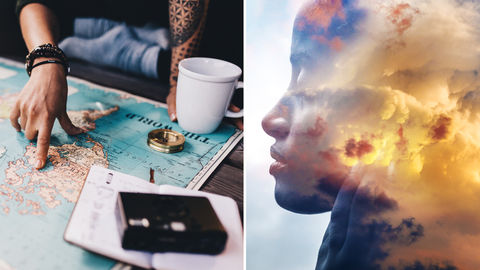 Travel in the past has served as an escape for many of us. The concept of a 'much-needed' vacation seems blurry now and our minds are definitely getting foggy. So to help us sail through these difficult times, we spoke to mental health and relationships' coach Shreya Maheshwari on how travellers can stay positive during this ongoing lockdown. By Japleen Kaur
1. For many, travel is a form of an escape from reality but for full-time travellers, it is also their job. How do you think this lockdown has affected their mental health?
People who decided to invest their time into travelling full-time did it by choice. They probably have spent years cultivating a monetary base for their niche and refining skills to fit that market need. Not being able to execute on their works renders their skills not usable in the current context. As with many other industries that are impacted by the COVID-19 restrictions, they have to pivot and find a new way to earn, motivate, and present this passion. And then, as with any profession run by passion, it hurts the inner artist who longs to experience and share with the world.
This reduced flow of income combined with an inability to stay true to their passion might have people feeling trapped, constrained, confused, and lost. It might also cause them to lose that sense of self that they spent so long creating.
2. Being shut inside your home sure has its perks but everything in excess is harmful. How do you think travellers should cope with this confinement situation?
To cope, we have to allow the mind to come to a place of rest and acceptance. Try to maintain a routine, reach out to people, and stay in touch with the traveller personality in you. This may mean wearing clothes that you would when travelling or speaking about certain topics and watching films set in beautiful places. The first actionable step is to create an environment that is pleasant and inspiring to live and work in. A key thing is to accept things as they stand today and find joy in the presence. Sometimes to #stayin is also a way to travel within the mind. It is a great time for personal growth and learning, also a way to live through the discomfort and learn a new personal calling. By doing this we can turn a confinement situation into one of proactive choosing.
View this post on Instagram
3. Do you think planning a future trip can help ease the agony of travellers?
Imagination can definitely help refuel passion and bring a sense of hope into the minds of travellers. The downside is, things are unpredictable and if the future trip goes through more delays it can lead to a deeper feeling of helplessness and dejection. From a personal standpoint, creating a wishlist of places to visit and things to do while leaving the important details like dates out might be a fair compromise. This way the imagination stays ignited and the wishlist research can be actioned when there is definite scope to travel.
4. Any tips on how a traveller can satiate his/her wanderlust during the lockdown?
We do certain things when we travel, especially when solo travelling we get more honest about our likes and dislikes. Try doing those things or versions of those things even while at home. For example, if you love to drink tea while reading a book or going on long walks then carve out time to do that in the day. It ignites imagination and great memories have you feeling warm. Maybe make an album of pictures, write out your notes on a wall hanging, calenders, or art forms or even create a travel song playlist. This time can also be used to educate yourself and others; share your stories and learnings with others and keep that community feeling alive.
View this post on Instagram
5. What are the different emotional stages a traveller may go through during this period and how can they cope?
The emotional stages a traveller could go through during this time are:
Disappointment – It's a bummer when your planned trips are cancelled. The thing that excites a traveller most is taken away from him/her and feeling sadness over it may be the first response. Just coming to accept it and expressing the disappointment can be very healing.
Trapped – Having the basic coping tool and way of life taken away from them may leave travellers feeling trapped. Since this is not a choice it can leave them feeling a little out of sync with their new reality. At this stage, it's important to find other outlets and re-wire some joy into the current situation.
Fear and stress – The underlying feeling of fear may now begin to come to the surface. Constantly reading about the effects of the virus, coming to terms with the duration this may last preventing any future plans, news about the hospitality and travel sector crashing can all cause a feeling of helplessness and stress. This stage requires a connection. Reach out to as many loved ones as possible, take solace in the fact that everyone is going through this together.
Loneliness – This is the stage for inner work and introspection.
Acceptance – One day the new reality seems to feel like the new normal. With it, you'll find peace and a flow of fresh ideas. Use the momentum to feel good and at comfort with the present.
Hope – Now we can begin to dream, plan, and offer comfort to others.
View this post on Instagram
6. Do you think revisiting old travel memoirs is a good idea?
Yes, it'll help keep the memories alive and the heart blissfully happy.
7. Should one find respite in the art of journaling?
Yes, everyone should. There are two kinds of journaling:
a. Personal notes help you keep track of your wandering mind and put thoughts on paper.
b. The art of storytelling and re-capturing your own experiences.
View this post on Instagram
8. What is your opinion on creating vision boards for future travels?
This is such a great idea. This is a wishlist come to life. Having a visual representation of inspiring places, quotes, things to see can keep you motivated in what today has to offer. Looking at a vision board daily can also help manifest them into reality.
9. This pandemic may change one's perception of travelling in the future. How do you think a traveller should mentally prepare himself/herself for future travels?
Things are going to change. Safety measures, procedures and health documentation will change. Our closeness to people will also be impacted. Perhaps some more planning and keeping loved ones informed will be needed. Hard to say how things will be but I feel humans are a resilient race, we are already learning the tools which will come into play when we travel again perhaps. We'll have to wait and see. I guess in a way living through COVID-19 is its own kind of travel experience – we live to tell the story of a strange time.
Related: These Home Activities Will Help You Find Some Calm Amid The Lockdown
Written By