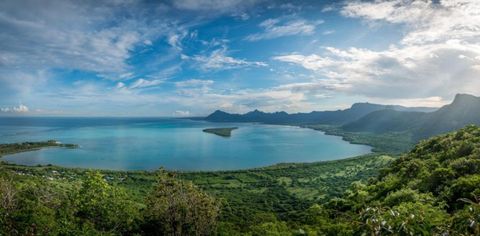 Mauritius is back on tourist radar as the island paradise has now launched long-term visas in an attempt to lure digital nomads into its abode. Complete with additional security measures and visa options, here's what you need to know about it. By Bayar Jain In a recently issued statement, Mauritius has unveiled long-stay visas to meet the growing demand of international visitors itching to relocate to the island paradise. Notably, visitors were earlier granted visas for a cumulative of 180 days in a calendar year. This restriction has now been extended for one year on a renewable basis.
Launched under the direction of Mauritian Prime Minister, Pravind Jugnauth, this new visa is valid for repeat visitors who aimed at retiring or migrating to the nation prior to the COVID-19 outbreak, future retirees, investors and remote-working professionals, and visitors who have children studying in Mauritius. However, in order to qualify for the same, proof of long-stay plans, and adequate travel and health insurance must be provided. Additionally, the primary source of income of applicants must be outside the nation's borders. A digital application portal has been set up by the nation's government to facilitate the visa application process. Long-stay visas aside, Mauritius has the added advantage of having won accolades in the previous World Bank Doing Business Report. Having clinched top-spot in Africa, the country is known to provide a transparent financial ecosystem, state-of-the-art telecommunications infrastructure, and a high-capacity underwater fiberoptic network linking Africa to Asia and Europe via the Middle East. To help in integration, citizens of Mauritius are also being encouraged to act as 'Welcome Ambassadors' and invite new residents to events to integrate them into the nation's communities. Countless rental accommodations; an on-arrival concierge service to help settle in; and picturesque environs replete with beaches, corals and scuba diving facilities adds to the allure.
Its biggest magnet, however, is the country's adherence and assurance of COVID-19 safety protocols. To remain COVID-19-secure, Mauritius requires all entrants to undergo a 14-day quarantine combined with a negative PCR test report taken prior to departure from the base. Upon reaching, another test will be conducted followed by two more tests on the 7th and 14th day, respectively. Notably, Mauritius has lifted its nationwide lockdown in May 2020 itself owing to successfully curbing the spread of the virus.
Related: Mauritius Tourism Is Offering Premium Long-Term Stay Visas To Remote Workers!
Written By