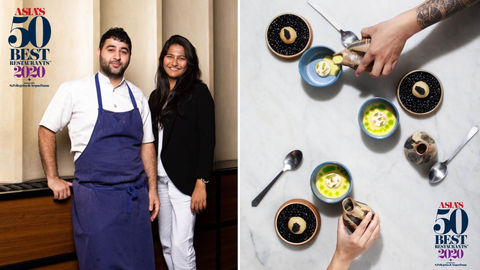 The restaurant and media industry came under the safe roof to celebrate a special event in Mumbai recently. By Karishma Sakhrani
Asia's 50 Best Restaurants has announced that Masque in Mumbai, India, is the 2020 winner of the prestigious Miele One To Watch Award. Selected by the organisers of Asia's 50 Best Restaurants in collaboration with its regional experts, the Miele One To Watch title is presented to a restaurant that is outside Asia's 50 Best lists, but is identified as a rising star of the region. A huge honour, this special recognition was recently celebrated at the restaurant in the company of India's leading chefs, media and other esteemed guests. Launched four years ago, co-owner and chef Prateek Sadhu and partner Aditi Dugar have steered Masque to this position with their undying passion for excellence and introducing a new 'tasting menu only' concept to India. Combining modern techniques with indigenous ingredients, Sadhu has managed to create a unique position for Masque in the city. You can always expect to be surprised with a menu that changes every season. But what has stayed over the years, is the commitment to quality and sheer passion for this art. Which perhaps made Masque an undoubtedly strong contender for this position.
Sadhu explains, "Masque adopts a progressive, modern approach to dining and strives to redefine Indian cuisine. To us, this isn't about returning to regional recipes and simply plating them with new tweaks. It demands to revisit those recipes and ingredients with purpose and discovering how this process can build cross-cultural bridges. We are honoured that others appreciate the work we're doing. Receiving the Miele One To Watch Award inspires us to continue on this journey of discovery." William Drew, Director of Content at Asia's 50 Best Restaurants, who was also present at the dinner, adds: "Masque represents a new chapter for India's dining scene. The ingredient-driven menu highlights the diversity and quality of India's local products while the creative presentation, fresh combinations and radical approach to culinary traditions point to chef Sadhu's progressive vision."
Due to travel restrictions, this year the awards will be streamed from the Asia's 50 Best Restaurants Facebook page and YouTube channel on Tuesday, March 24 from 4 pm (HK/ SG; 5 pm JPN). We'll definitely be logging on to follow the countdown!
Related: Les Amis In Singapore Takes Home The Gin Mare Art Of Hospitality Award 2020
Written By