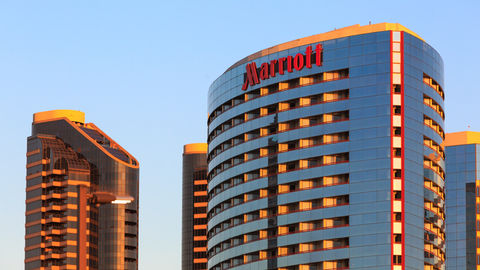 Editor's note: The global COVID-19 crisis has left each one of us deeply affected and we want to help. Burda Media India has organised a fundraising campaign to #FightBackWithTesting and donating RT-PCR test kits to the worst-affected areas in India, which will be secured from our testing partner Mylab Discovery Solutions. You can help these kits reach many more by donating for the cause or by adopting a kit. Click here to join the fight.
Marriott International raises its safety and hygiene quotient for future guests post COVID-19. Also introduces food delivery service. By Tanvi Jain
View this post on Instagram
Marriott International has recently introduced a multi-pronged platform to elevate its cleanliness standards and hospitality norms to meet the new health and safety challenges the COVID-19 pandemic has presented to the hotel industry.
"Introducing Marriott's Commitment to Clean, our new initiative that aligns with expert health & safety protocols. Watch our video to learn more about how we're working to provide a cleaner, safer environment for our guests and our associates. https://bit.ly/MIClean," Marriott International said in a tweet.
View this post on Instagram
The hotel chain has already started virtual training sessions for the team on the new standards — be it in airport assistance, front of the house, in-room delivery, laundry or the kitchen. It will also be implementing the new guidebook of kitchen standards issued by Food Standards and Safety Authority of India (FSSAI), which will include new seating plans for meeting spaces, restaurants and staff cafeteria.
Moreover, the hotel rooms will also be cleaned in a completely new way, which will include deep cleaning and sanitisation procedures carried out with chemicals and in methods trained by their hygiene partners. Rooms will further be equipped with sanitisers, wipes and only dry amenities.
View this post on Instagram
"Marriott is rolling out enhanced technologies over the next few months, including electrostatic sprayers with hospital-grade disinfectant to sanitise surfaces throughout the hotel. The company is also testing ultraviolet light technology for sanitising keys for guests and devices shared by associates," the company mentioned on its official website.
Furthermore, the hotel chain has also started food delivery within a 10– kilometre radius of the property. The food is being prepared in a safe and clean kitchen, and is delivered with due care by hotel valets. Another initiative includes an opportunity for people to sign up for weekly virtual cooking sessions with the hotel chef's home kitchen.
View this post on Instagram
It has partnered with Swiggy for its Marriott on Wheels delivery service initiative in India, under which 20 of its properties across Bengaluru, Kolkata Chandigarh, Delhi, Chennai, Hyderabad, Agra, Pune, Mumbai, Coimbatore, and Goa, are reportedly being listed on Swiggy.
Related: Marriott's New Way Of Cleaning With UV Light Ensures Your Future Stay Is Super Safe
Written By