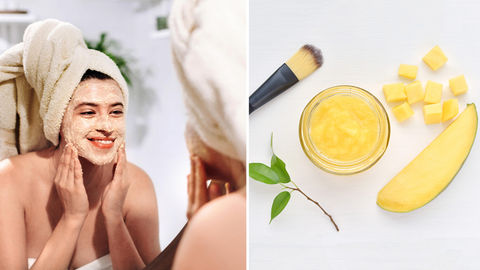 Prepare your skin for the outdoors again with these all-natural, easy-to-make mango face masks that promise to make you glow. By Bayar Jain SOFTEN SKIN
What you'll need
2 tablespoons mango pulp
1 tablespoon oats
2 teaspoons milk
3-4 almonds Method
Ground the almonds finely, and mix them with mango pulp, crushed oats, and milk to form a scrub. Apply it to your face as a pack, and scrub it off after 15 minutes. To cleanse thoroughly, wash it off with lukewarm water. While the vitamins and nutrients present in the mango soften the skin, the oats and almonds collectively work as organic scrubbers, facilitating dead-skin removal and stimulating blood circulation.
ERASE DARK SPOTS
What you'll need
1 tablespoon mango pulp
2 teaspoons milk Method
Add the mango pulp to warm milk and mix. Next, apply this blend to your face and wash after half an hour. For stubborn blackheads, you could even add a teaspoon of sugar to this mix, and scrub the spots away. The alpha-hydroxy acids present in mango help break the bonds between dead cells and make it easy to remove them. On the other hand, the lactic acid present in milk works as a natural cleanser.
FIGHT ACNE
What you'll need
1 tablespoon mango pulp
1 teaspoon honey
1 teaspoon yoghurt Method
Mix the three ingredients in a bowl to form a thick paste. Massage this on to your clean face. Alternatively, it can also be applied topically to the affected parts of your skin. Let the paste sit for 15 minutes. Using a warm washcloth, wipe the mask off your skin. To complete the routine, rinse your face with cold water and pat it dry with a clean towel. This mask is an easy fix for people with oily skin and also aids skin hydration. The antibacterial properties of honey and the probiotic nature of the yoghurt fight acne-forming bacteria, while the mango itself hydrates the skin, thanks to its reserve of Vitamin A. The three work together to soften rough skin and moisturise it.
REMOVE EXCESS OIL
What you'll need
The pulp of one ripe mango
3 teaspoons fuller's earth
1 teaspoon curd Method
Add fuller's earth to the mango pulp and adjust the consistency using curd until a smooth paste forms. Apply this pack to your face, and let it dry for 20 minutes. Rinse the pack off your face using lukewarm water to complete the routine. While the nutrients present in the fruit make the skin soft and supple, fuller's earth removes dirt and soaks excess oil from the skin. This all-natural face mask is specially beneficial in humid weather.
Related: Put That Glow On With These 10 Ubtan Recipes For The Indian Skin!
Written By