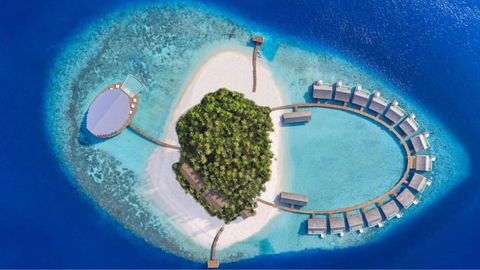 Unwind in a salt chamber or swim with the dolphins, whatever you choose to do at Kudadoo, it'll come with a green tag. By Gayatri Moodliar
With a panoramic view of Maldives' Lhaviyani Atoll, it's no surprise that the Kudadoo is being termed as the best new luxury hotel to visit in 2019 by the Luxury Travel Intelligence Group. And that's a tough feat, considering Maldives itself already has a treasure trove of luxe properties to compete against.
Designed by Yuji Yamazaki, the reason it's making the rounds in such a short amount of time—it opened in December—is its dedication to sustainability. An all-inclusive resort with over-water Japanese-style villas, Kudadoo has become the first property in Maldives to attain the crown of 'fully-sustainable.' And it's doing so in the most premium way possible by assuring guests of 'The AAA concept' (Anything. Anytime. Anywhere.) Whether it's extraordinary culinary requirements, curated wellness therapies, or immersive water-based expeditions, Kudadoo will design and personalise it all for you. You could opt for swimming with dolphins or you may want to dine literally anywhere—whatever it is, your personal butler will make it happen.
The ways in which the property is focussing on keeping itself eco-conscious is the real takeaway: the entire private island is powered by solar cells. The retreat's slanting roof is the canvas for 984 solar panels that can produce 575MWh of power annually. From the construction phase, the vision of staying green has been present. All wood for the structures was obtained, the hotel claims, in a sustainable manner and no damage was inflicted on the neighbouring wildlife and area.
Chefs have been briefed to use local, organic produce as far as possible, and the fish are obtained from those employing line-fishing methods so as to reduce the chances of by-catch.
While the adventures within the depths of the water are abundant—swim with manta rays, see the coral reefs in a new light by snorkelling, free-dive with turtles—the resort has tied up with the Manta Trust to educate guests and ensure that no harm is being caused to the specimens.
For those looking for a more wellness-oriented stay, the Lonu Immersion allows guests to indulge in Maldives' first Himalayan salt chamber.
Related: Let Sonakshi Sinha Tell You What Your Holiday Pictures In Maldives Should Look Like
Written By