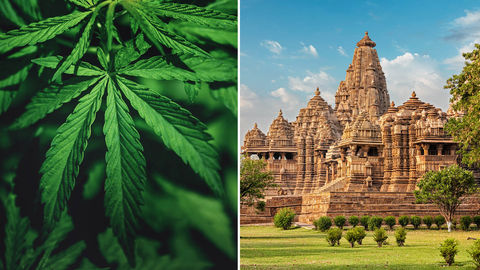 After Uttarakhand and Uttar Pradesh, the Madhya Pradesh Government is set to legalise cannabis cultivation for medical purposes. By Ritika Dixit
While the Central Government is still picking sides when it comes to the pros and cons of legalising cannabis cultivation, another state in the country is set to make cultivation of hemp — a type of marijuana — legal. Madhya Pradesh will be cultivating hemp strictly for the purposes of cancer medication and for the manufacture of clothes and bioplastic. The cultivated hemp will not be used for any trading or consumption, it will be meant only for industrial purposes. Farmers, on the other hand, will have to get a license from the excise department of the government. The product will be sold only to the Government and not to any private buyers or traders.
Madhya Pradesh will be the third state in the country, after Uttar Pradesh and Uttarakhand, to legalise hemp cultivation. The step is being seen as the birth of a new industry in the state, leading to better healthcare for the public, higher revenue for the government, and welfare for the farmers.
Hemp contains 0.3 to 1.5 per cent of tetrahydrocannabinol (THC) which can be used for a wide range of industrial and medical purposes like the treatment of cancer. Many eminent personalities in the country have advocated for the cause of legalising marijuana cultivation in India. Maneka Gandhi, former Union Minister for Women and Child, highlighted that the step of legalising cannabis cultivation will help curb drug abuse, as witnessed in other countries that took a similar step in the past. Similarly, Tathagata Satpathy, Lok Sabha MP from Odisha has suggested legalisation will in the fight against alcoholism. Or Shashi Tharoor, Congress MP from Thiruvananthapuram, argues that the revenue collected on imposing a tax on marijuana can be used for educating people about the risks of drug consumption.
There is a very thin margin between use and abuse of a substance and the Madhya Pradesh government is drawing that line and treading it with caution. We hope all the benefits are reaped without overstepping that line.
Related: Why This National Park Is Madhya Pradesh's Best Kept Secret For Wildlife Lovers
Written By