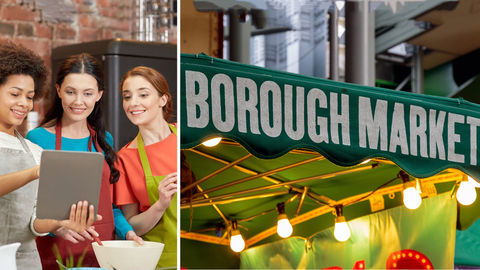 Editor's note: The global COVID-19 crisis has left each one of us deeply affected and we want to help. Burda Media India has organised a fundraising campaign to #FightBackWithTesting and donating RT-PCR test kits to the worst-affected areas in India, which will be secured from our testing partner Mylab Discovery Solutions. You can help these kits reach many more by donating for the cause or by adopting a kit. Click here to join the fight.
If the lockdown has you beat, and in the last month you have cooked everything you know, here is a little treat! Say goodbye to those culinary blues because a 1,000-year-old market in London has got your back. By Manya Saini
Just because the days of eating out are behind us for some time, it doesn't mean gourmet food can't be experienced at home. To help you beat the lockdown blues with delicious delicacies, the historic Borough Market in London is offering cooking classes on its official Instagram and Facebook page.
View this post on Instagram
The market locked near the southern end of the London Bridge has been a part of the city's culinary history, tradition, and heritage for almost 1,000 years. It has hundreds of food stalls and shops, where chefs cook for customers, along with many wholesale groceries that supply food to high-end restaurants. Since the outbreak of the novel Coronavirus, large parts of the market have been closed to comply with social distancing norms. The shops that continue to operate are following strict regulations to ensure customers do not crowd at the counters.
To keep the spirit alive, the market has decided to create a shared community space on social media. It uploads videos on its IGTV and goes live frequently with tutorials of many recipes for its customers to try at home.
View this post on Instagram
It has so far hosted classes by world-renowned chef Hayden Groves, food writer Lisa Fearn. and food historian Angela Clutton on the use of vinegar and ginger in different recipes to bring a new flavour. If you have missed these and much more then don't fret, most lives are uploaded after-the-fact for people to experience later as well.
Don't miss the chance to up your culinary skills this quarantine! Give yourself and your family a treat with recipes from across the globe.
Related: #TnlSalutes: Fairmont Jaipur Joins The Fight Against COVID-19 By Distributing Food & Medical Supplies
Written By