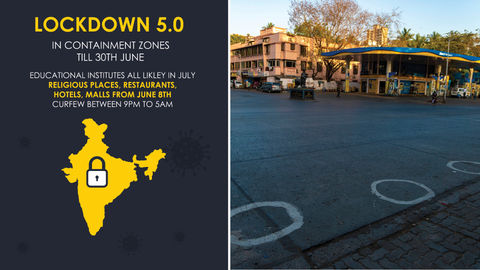 Editor's note: The global COVID-19 crisis has left each one of us deeply affected and we want to help. Burda Media India has organised a fundraising campaign to #FightBackWithTesting and donating RT-PCR test kits to the worst-affected areas in India, which will be secured from our testing partner Mylab Discovery Solutions. You can help these kits reach many more by donating for the cause or by adopting a kit. Click here to join the fight.
Lockdown 5.0 in India: MHA allows more relaxations in non-containment zones. However, states can ease or prohibit activities as per their condition. By Tanvi Jain
View this post on Instagram
Amid the ongoing battle with the novel Coronavirus, India, after surviving four phases of lockdown, has now entered its fifth phase, or what can also be termed as Unlock 1.0, for non-containment zones, depending upon every state's personal rules and regulations.
"Within Containment Zones, #Lockdown restrictions to continue till 30.06.2020. #Unlock1 All activities to be relaxed in a phased manner outside containment zones, as per @MoHFW_INDIA guidelines. States may impose restrictions/prohibit activities as per assessment," Spokesperson Ministry of Home Affairs tweeted.
In an attempt to resume economic activities, in view of the declining GDP of the country, the centre has now decided to reopen the business in phases. As per the MHA guidelines, while in the first phase, people will be allowed to leave their house provided they strictly wear a mask and follow social distancing, the second phase will witness reopening of educational institutions, and the third phase will see a resumption of entertainment services, metros and international travel.
View this post on Instagram
Moreover, the curfew hours will also be eased from the earlier 07:00 pm to 07:00 am, to now 09:00 pm to 05:00 am. However, these relaxations will be allowed only in the non-containment zones, while the restrictions in the containment zones will continue till June 30.
Although it's every state's personal call as to how much freedom it is willing to give and how much restrictions it needs to impose in particular areas, it's mandatory for every state to abide by the Centre's guidelines.
States like Maharashtra, Gujarat, Tamil Nadu, Karnataka, Punjab, Rajasthan, Telangana, Uttar Pradesh, etc., have already made announcements regarding what will open and what not and from when.
View this post on Instagram
According to the MHA guidelines, the phased reopening of areas outside containment zones will be undertaken in accordance with the Standard Operating Protocols (SOPs) to be prescribed with Ministry of Health & Family Welfare (MoHFW).
While reopening of schools and colleges will be done by states in consultation at institution level with parents and other stakeholders, no restrictions will be imposed on inter-state and intra-state movement, which would mean no e-pass or separate approvals would be required. However, if states wish to regulate such movement, they will have to inform the public in advance.
Related: MHA Reduces Hotel Quarantine Period For Foreign Returnees To 7 Days
Written By