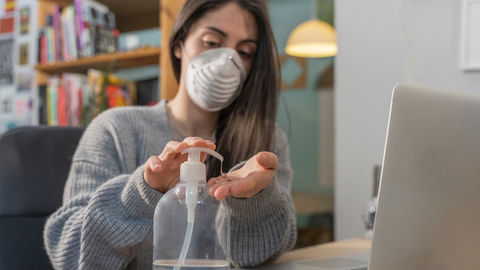 As the Indian Government eases certain restrictions in the second phase of lockdown, here are the list of rules and regulations that India Inc needs to follow once work is resumed. By Tanvi Jain
View this post on Instagram
As India has eased restrictions starting April 20, in order to revive the economy, some sectors of industries, especially the ones deemed virus-free are now slowly resuming operations. Sectors such as IT/ITES have been reportedly asked to operate with half the staff capacity.
Certain rules that the companies will have to strictly adhere to include making it mandatory for employees to wear a mask all the time, maintaining social distancing by ensuring that the employees are always at least six feet distance from one another. Moreover, even during meetings, the companies will have to make sure the strength is less than 10. However, working parents with kids below five years of age, and elders above 65 years are encouraged to work from home.
View this post on Instagram
Other operational rules include staggered lunch breaks, working in shifts, using more and more staircase and allowing no more than two to four people at a time in the elevator. The companies will also have to ban entry of non-essential visitors. Moreover, employees who commute via public transport will have to be provided a private mode of transport with only 30 to 40 per cent passenger capacity.
As far as hygiene is concerned, it's the company's responsibility to provide adequate hand sanitizers, conduct thermal screening of the staff, put up a list of nearby COVID hospitals, and encourage the use of Aarogya Setu App. Moreover, as per the social distancing at workplace guidelines issued by the Ministry of Home Affairs, the office premises need to be completely disinfected by user-friendly mediums, workers should be given mandatory medical insurance, a touch-free mechanism at all entry, exit points and common areas, along with a strict ban on tobacco consumption and spitting.
View this post on Instagram
As of April 20, India currently under the second phase of complete lockdown has permitted relaxations in services such as healthcare, agriculture, horticulture, fisheries and animal husbandry, barring containment zones. The Parliament Secretariat also resumed operations with Government-imposed restrictions and social distancing norms.
Related: Lockdown 2.0: Here's A List Of Services That'll Resume Operations In India
Written By