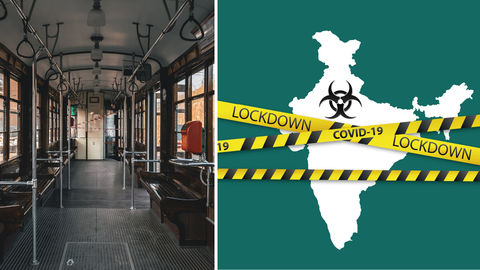 Editor's note: The global COVID-19 crisis has left each one of us deeply affected and we want to help. Burda Media India has organised a fundraising campaign to #FightBackWithTesting and donating RT-PCR test kits to the worst-affected areas in India, which will be secured from our testing partner Mylab Discovery Solutions. You can help these kits reach many more by donating for the cause or by adopting a kit. Click here to join the fight.
On May 1, the Government of India announced the third phase of the nationwide lockdown. As a traveller, this is all you need to know about lockdown 3.0 as of May 4. By Bayar Jain
On May 1, the Government of India announced the third phase of the nationwide lockdown, effectively taking up the total number of days in lockdown to 54. For this phase, the Ministry of Home Affairs (MHA) has classified the entire country into three zones – red, orange and green – based on the severity of the virus. Containment zones, too, have been spotted. These demarcations will remain flexible as of now and are slated to be revised and reassessed every week. As a traveller, this is all you need to know about lockdown 3.0 (as of May 4).
Nationwide:
Airways and Metro Rail
View this post on Instagram
As per a list of guidelines issued by the MHA on May 1, all domestic and international travel of passengers will continue to remain prohibited irrespective of the zones. Only those flying as medical services, air ambulances, security purposes, or for "purposes permitted by the MHA" will be allowed. Metro rails, too, will continue to be shut.
Railways
View this post on Instagram
The initial guidelines also listed out that all passenger movement by trains would also be disallowed. However, as per a follow-up clarification released by the Ministry of Railways (MoR) on May 2, "movement of migrant workers, pilgrims, tourists, students and other persons stranded at different places shall be carried out by Shramik Special trains, as required by the State Governments, in terms of the guidelines issued by MHA."
According to the guidelines issued by MoR regarding the movement of stranded persons by Shramik Special trains, nodal authorities are first required to register the stranded persons in their states or union territories. The same statement also says that these trains will run for a single destination without stopping between stations. The passengers of these trains are to be screened before boarding and deboarding, while simultaneously ensuring social distancing is maintained within the trains by allowing approximately 1,200 passengers at a time. Face cover is mandatory throughout the journey.
Additionally, the May 2 guidelines by the MoR also states that freight and parcel trains shall continue to function as they are right now.
Interstate Buses
View this post on Instagram
The May 1 MHA guidelines also prohibit interstate buses for public transport, unless "permitted by the MHA."
Zone-wise restrictions:
Containment zones
Barring non-essential activities, movement of individuals will continue to be strictly prohibited from 7 pm to 7 am. Local authorities are to ensure that the Government developed Aarogya Setu app, a COVID-19 tracking mobile application, covers 100 per cent of the residents of these areas. Only those people involved in maintaining the supply of goods and services would be allowed to move without restrictions.
Red Zones
Apart from the nationwide ban on flying, railways, buses, and metro – unless explicitly allowed by the MHA – cycle rickshaws, auto-rickshaws, cab aggregators, intra-district buses, and inter-district buses will continue to be prohibited in red zones. Four wheelers and two-wheelers can ply on the road for permitted activities, provided the four-wheelers only have three passengers (including the driver) and two-wheelers consist of only the driver. Pillion riding is currently prohibited.
Although shopping malls, market complexes, and markets remain closed in urban areas, standalone shops, neighbourhood shops, and shops in residential colonies can remain open. In rural areas, all shops except malls can remain open. E-commerce will continue to be restricted only to essential goods.
Orange Zones
Nationwide restrictions aside, intra-district buses and inter-district buses will continue to be prohibited in these zones. No such restrictions have been outlined for cycle rickshaws and auto-rickshaws. Taxis and cab aggregators, however, can take to the roads with two passengers. The same restrictions on passengers extend to private cars as well.
Green Zones
Barring the common nationwide travel restrictions, buses and bus depots in the green zones can operate with half capacity. All other activities which are not specifically prohibited can be undertaken. However, states and union territories can allow only select activities and restrict others based on the on-ground situation.
In these zones, the inter-state movement of cargo and goods is also permitted, including empty trucks.
????Important Update????

What's allowed and not allowed in Maharashtra during the extended period of Lockdown#WarAgainstVirus pic.twitter.com/OW8iX0HxXi

— CMO Maharashtra (@CMOMaharashtra) May 3, 2020
Note: Although the guidelines are in place, the central government has also stated that individual states and union territories are free to permit lesser activities should they deem fit. This assessment and prioritisation are meant to be done on the basis of the on-ground situation. For example, on May 3 the state government of Maharashtra issued a colour-coded table on their Twitter handle listing out which activities are allowed and which will be prohibited, each segregated as per zones. However, these notifications, too, are being constantly revised.
Related: Lockdown 3.0: India Extends Lockdown To Curb Rising Cases Of COVID-19
Written By