At Coimbatore's Linga Bhairavi Temple, Only Women Tend To The Sanctum Sanctorum And The Deity
Red is the colour of blood and kumkum; of vibrance and exuberance; and of the Devi. In Tamil Nadu's Linga Bhairavi Devi temple, only women tend to the sanctum sanctorum and the deity. Called Bhairangini maas, these women are also dressed in red. By Priyanka Dalal India is a land of innumerable deities with myriad forms and temples dedicated to each. Despite the diversity, we can still come across a temple that is setting up a new 'normal' with their rituals and practices. Linga Bhairavi Devi temple, situated on the outskirts of Coimbatore, is one such place. The deity and sanctum sanctorum here is maintained entirely by trained women devotees called Bhairangini maas. The presence of these women, clad in striking red saris undertaking activities that are typically conducted by men, creates a palpably different ambience.
View this post on Instagram
Earlier, for the Hindu festival Navratri, the Devi transformed every three days—from Durga with a red kumkum abhishekam (anointing using red turmeric powder), to Lakshmi with a turmeric abhishekam, and finally, Saraswati with a chandan abhishekam (anointing using sandalwood). All these abhishekam rituals would be webcast live for devotees from around the world to join in on the festivities via social media or YouTube. Singer Tanvi Shah, the first Indian woman to win a Grammy, dedicated a devi stotram to Linga Bhairavi.
This Diwali, the temple will see a true 'festival of lights' with 1,008 oil diyas dazzling the inner and outer parikrama (path) of the temple. While devotees can't visit the temple due to COVID-19 restrictions, they can donate for these lamps, watch the live webcast, and follow the Facebook and Instagram posts.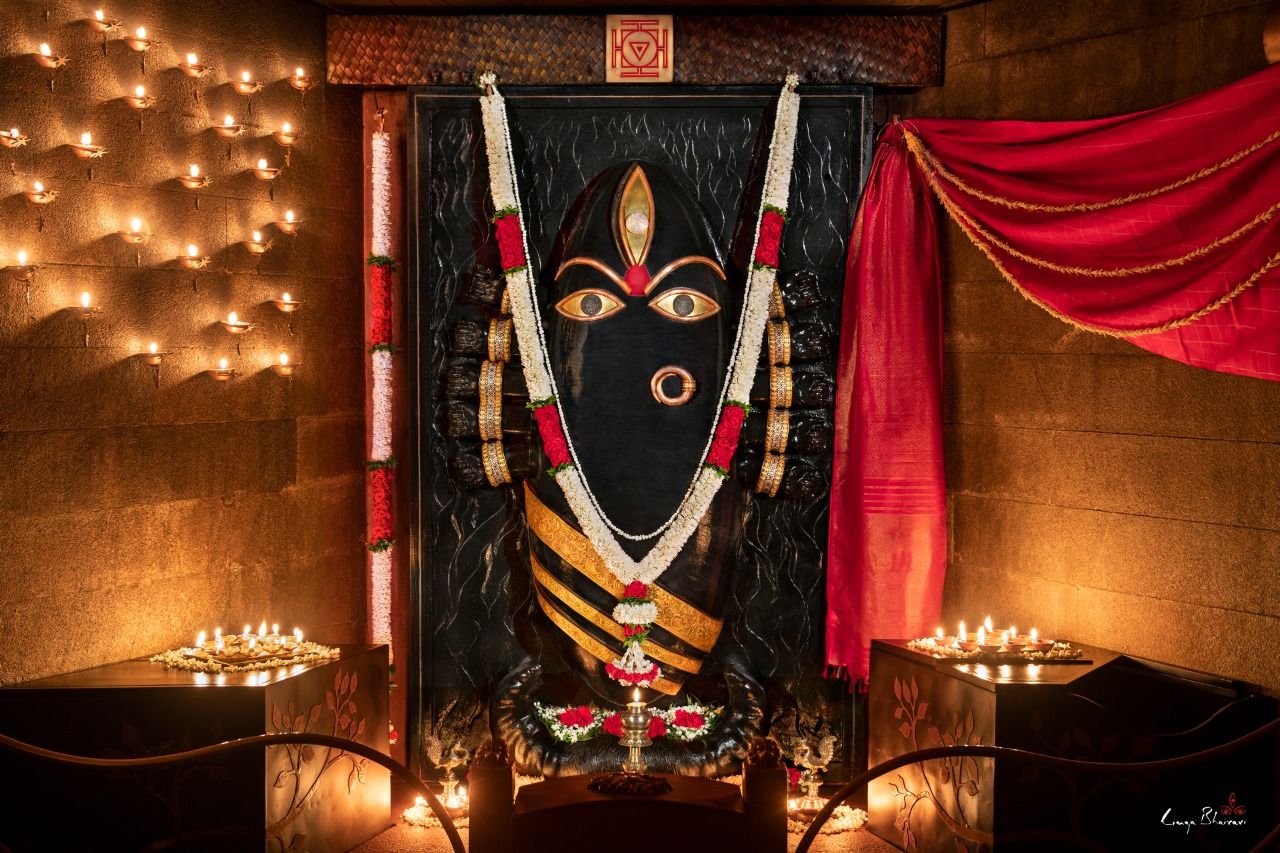 Another aspect which sets this temple apart is that there are no restrictions for menstruating women. As Sphoorti, a fashion marketing consultant from Coimbatore mentions, "What always seemed like a taboo turned out to be a blessing! As women, we often get bogged down during our periods, but meditating in the presence of Linga Bhairavi not only kept me in good spirits, but also helped me discover deep states of meditation, and feel balanced and in commune with Mother Nature. I realised how our body itself can be treated as a temple, and be a stepping stone in one's spiritual path."
This temple is usually abuzz with rituals, ceremonies and artistic activities. Melodious aartis take place thrice a day and are followed by music recitals. At other times, a chant reverberates on loop, repeating 'Her' various names. The pournami or full moon days see an increase in activities. The aartis are longer with a kumkum abhishekam and classical dance performances, followed by an elaborate procession. During this procession, a consecrated Devi idol is taken outdoors in a grand ceremony to the nearby Dhyanalinga temple for an open-air aarti and fire dance.
This Devi Temple is a part of the larger temple complex situated in the Isha Yoga Center. It includes a Dhyanalinga, a silent temple for meditation; refreshing bathing kunds; eateries; and shops. While the Dhyanalinga temple is solely for meditation and observes few rituals, the Devi temple is the hub where all rituals relating to life's different aspects take place. Think naming and ear-piercing ceremonies for babies; bhuta shuddhi (cleansing of elements) and marriage ceremonies to kalabhairava shanthi (rituals for the departed souls). A central area with an eight-feet-tall Trishul serves as the common area for all ceremonies.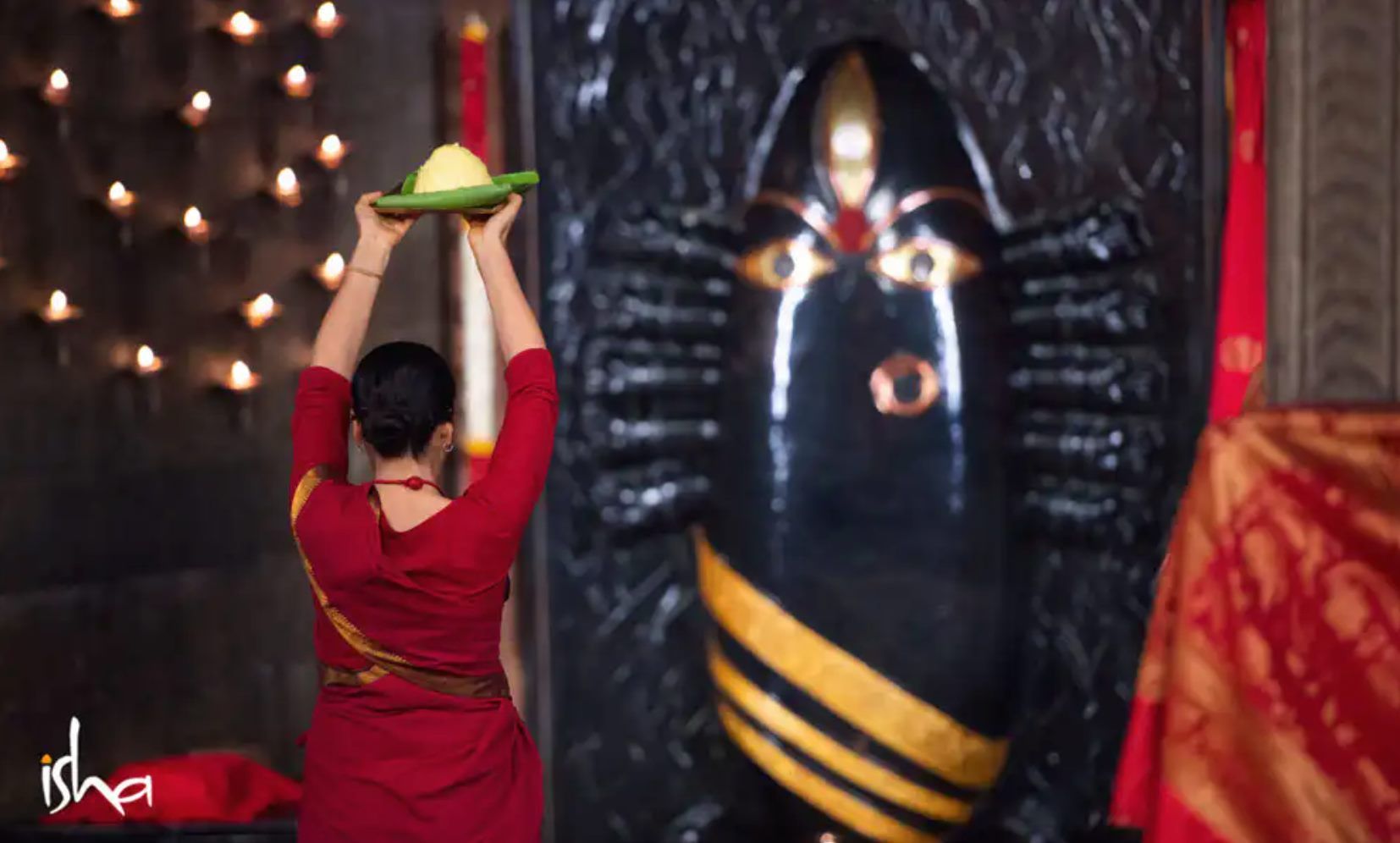 While the ceremonies continue, devotees and visitors are free to continue with their personal sadhana (meditation), chants, make offerings, or simply observe the surrounding bustle. Although the Dhyanalinga is a silent temple with very little movement, the Devi temple is dynamic with constant movement.
One of the annual devotional activities at this temple is the Shivanga Sadhana, a 21-day period of austerities. It starts sometime in January and culminates with an elaborate pilgrimage walk on Thaipoosam, the full moon in the Tamil month of Thai, during which a life-sized Devi using grass is made. On the morning of the full moon day, a procession starts to the sounds of tribal drums paired with 'Jai, Devi (hail, Devi!)' chants. Participating women carry plants on their heads for the Linga Bhairavi temple 15 kilometres away, followed by the green Devi on a chariot. The Thaipoosam procession can be a moving experience for participants. "I have been participating in it for two years now, and each time I feel enveloped by Devi's grace. The sadhana has also allowed me to embrace people and inculcate the determination to break barriers," says Jayashree Shankar, director, Subramany Group of Companies, Tuticorin.
Similar Devi temples have been set up in cities like Salem, Delhi and Gobichettipalayam. Moreover, it is possible for individuals to fund a smaller shrine for their homes or workplaces. A factory in Surat has a consecrated Devi temple at its entrance, while a devotee has set up a smaller shrine in his house in Goa. These shrines can be found in many homes, hospitals and workplaces across the country, and even abroad. Visitor Information: The Linga Bhairavi Temple is part of Isha Yoga Center, located 30 kilometres from Coimbatore. Visitors can find more information here, or call their helpline at 8300083111.
Related: See A Different Side Of India's Spirituality With These 5 Unique Temples