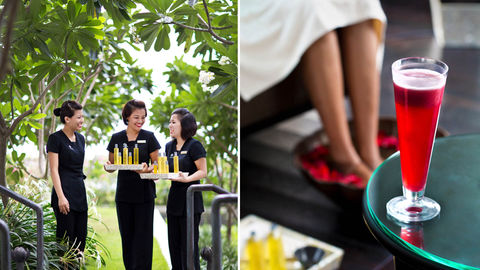 If you're looking to unwind after a hectic year-ending fiesta, The Leela Palace Chennai's ESPA is your best bet. By Indu Bhardwaj When I catch an early morning flight from Bengaluru to Chennai for a day of gruelling business meetings, a break at The Leela Palace Chennai's luxurious spa, ESPA, feels like a blessing.
I am greeted by the courteous spa manager and a personal consultant, to whom I convey my need to relax. She assures me that I will receive a unique treatment to suit my needs, and offers me the ESPA aromatherapy massage, which uses a blend of individually chosen oils. The relaxing session begins with the Vitality Pool designed by Barr+Wray. The Vitality Pool, which typically operates at 38° Celsius, has air and water jet features. It contains hydrotherapy body jets, floor jets, air beds with jets, and swan neck fountains to massage my body. These button- or sensor-activated jets operate for four minutes before turning off automatically. As I am asked to move between stations, I can feel my body's circulation increasing, and my mind relaxing. Next, I am led to a modern, circular oakwood sauna, followed by a shimmering glass mosaic steam room. On entering, I feel my skin's pores opening and my tiredness easing. ESPA is among the country's first to elevate the concept of Thermal Suites based on the ancient spa wisdom of Sanitus Per Aquam (healing through water). The best, however, is saved for last. I enter a therapy room designed with exquisite luxury, plush beds, private lifestyle showers, and a curated music menu to choose from. I opt for the medium pressure relaxing massage with Cypress and Juniper Berry Oil. I'm told this oil helps cleanse, purify, and energise the body while also affecting your mood and helping you relax. The skilled therapist uses her hands in flowing movements. I feel the tension releasing and my energy flow getting regulated again. A head massage using essential oils makes it better. The session ends in a dimly lit private cubicle with invigorating herbal teas. I can feel my mind and soul regain its former radiance and vitality.
Related: Head To ESPA At The Leela Palace New Delhi To Experience Therapies That'll Leave You Refreshed!
Written By