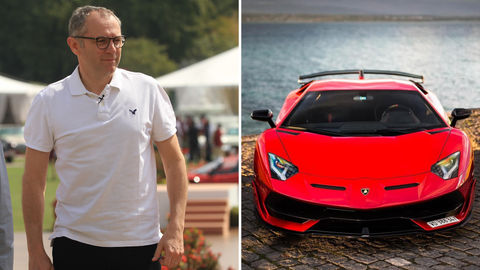 Stefano Domenicali, Chairman and CEO at Automobili Lamborghini S.p.A, is quite the quintessential star of the automobile world. He had previously worked at Ferrari and Audi, and now he has been credited to take his current organisation zoom past the billion Euro mark in 2017. Still growing at a brisk pace, Domenicali is the man on the move. By Mitrajit Bhattacharya
Stefano Domenicali recently visited India to judge the Cartier Concours d'Elegance, held at the picturesque Rambagh Palace in Jaipur, and we had an exclusive chat with the man of the hour.
1. We just saw a Lamborghini takeover happening in Jaipur with 25 super-cars flown in from all parts of India. How does it feel?
I can feel some great vibrations. What do you say?
2. Performance cars and fine watchmaking make a great combination. What do you think?
I think technology, style, lifestyle, and passion for a piece of art are the elements that connect these two worlds. And I believe, they are so special for our clients — that offers us great opportunities to connect these two worlds, which are very similar.
3. Would you comment on your relationship with Roger Dubuis?
We are happy to see Roger Dubuis as our partner in product development and have imbibed the same values that we have in our cars in their watches. We started his collaboration a couple of years ago but we continue to work together as we both find the foundation of this collaboration very solid.
4. Automobili Lamborghini has raced past a billion Euros in sales and is a raging bull now. What are the key elements that led to this success?
It's more than 1.4 bn Euros now. What we did at Lamborghini is to free the power we had. We have now great products in terms of quality, performance and technology. The brand is growing. We are working on the awareness of the brand. Our products are getting associated with the younger generation. We are engaging with them, and we are speaking their language. So in the past few years, we have not only grown in terms of volumes and turnover, but the biggest growth has happened in terms of awareness. However, I must point out that we don't want to grow extensively, we need to stay exclusive. We will follow the same principle in the coming years. This year too we will grow, but after this we need to stabilise the volumes.
5. What has been the star product that contributed majorly towards the growth?
URUS, the super SUV has given us the boost to accelerate growth. It has been an energetic product in a different segment, which has allowed us to talk to a newer audience. But don't forget, even with Aventador and Huracan we have brought in great products. Huracan Performante and Aventador SVJ, the derivatives of these two families have contributed to our growth; given us even more credibility in the segment where we belong — that of super sports cars.
6. You are here to attend Cartier Travel With Style. Tell us about your association with this concourse.
First, I have to thank Cartier for inviting me to judge this concourse. The classy touch of Cartier in this event is clearly evident; it lives up to the name of Concours d'Elegance. India is an incredible country with an incredible history and an incredible future. Classic cars are a new love for cars aficionados in India. Historically, classic cars were the passion of the Maharajas only, now even the collectors and car lovers are able to put their hands on these beautiful cars with such great legacy. It's not just the car; it's the story behind the owner, the story behind the restoration and the journey of the car through the years. That's why it so fascinating. All luxury car makers will now be interested to come to India and find this connect with history.
7. Moving on to travel questions. What's your favourite destination?
My life has been about constant travels over the years, but if I have to choose a favourite destination I would choose the mountains. The Dolomites in the north of Italy are my favourites.
8. What's your take on India?
India is so interesting. There is a growing interest around the world to come to India. To explore the different philosophy of life, traditions, aspects of the society — India offers the full spectrum.
9. Destinations on your bucket list?
Everest because I love mountains, South America as it's connected to nature and Argentina (Patagonia) and Peru, in particular.
10. Things you love to do when you are on a holiday?
I am a man of action. I like to explore the unknown and take off-the-beaten track.
11. Who's your favourite travel buddy?
My wife and my kids.
12. Where are you headed next to?
Lampedusa — a small island located in the south of Italy.
Related: We Took The New Lamborghini Urus on a Road Trip in Italy
Written By