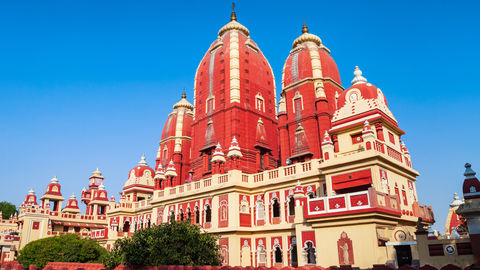 The bestower of wealth and prosperity, Goddess Lakshmi is worshipped around India in her many forms and incarnations. Some of the oldest temples In India are dedicated to the goddess. So, before every home in India prepares for 'Her' arrival on Diwali, let's check out some of the renowned heritage Lakshmi temples of India. By Shubhanjana Das
1. Ashtalakshmi Temple, Chennai
View this post on Instagram
Located near Elliot's beach in Chennai, the Ashtalakshmi Temple complex has a shrine of all the eight avatars of the Goddess. Starting from shrines of the main deities of Lakshmi and her consort Vishnu, you have to go around to see the shrine of the goddess of wealth, offspring, success, prosperity, courage, food, knowledge and bravery. The temple's foundation was laid in 1974 and its architecture is inspired by the Sundhiraja Perumal Temple in Uthiramerur.
2. Sripuram Golden Temple, Vellore
View this post on Instagram
The Sripuram Golden Temple in Vellore has a shrine of the Goddess Lakshmi and a temple tower coated in gold foil. The temple, built over seven years, has a star-shaped path, which represents the Shri Chakra (wheel). It is one of the biggest temples in India and is located on a hill called Malaikodi in Vellore.
3. Lakshmi Devi Temple, Hassan
View this post on Instagram
This temple, located inside a complex devoted to other Hindu gods and goddesses, dates back to the prestigious Hoysala period. It stands as one of the most important Lakshmi temples in India, and one of the oldest specimens of Hoysala architecture. The Lakshmi Devi Temple is located in Doddagaddavalli.
4. Lakshmi Narayan Temple (Birla Mandir), Delhi
View this post on Instagram
Besides being an important site of worship for Hindus, the Lakshmi Narayan Temple in Delhi is also a popular tourist site. The temple was built back in 1939 by the entrepreneurs BR Birla and Vijay Tyagi. Bapu himself inaugurated this temple. The temple complex houses shrines devoted to Lord Ganesha, Devi Durga, Lord Hanuman along with a Buddhist shrine.
5. Mahalakshmi Temple, Kolhapur
View this post on Instagram
A trip to the Mahalakshmi Temple, when in Kolhapur, is a must for every religious person. This Shakti peetha is an important pilgrimage site for Hindus and was built by the Chalukyas of Karnataka on the banks of the Panchganga River.
6. Mahalakshmi Temple, Mumbai
The legend behind the 300-year-old Mahalakshmi Temple on the edge of the city shore says that the shrine was not carved out, but appeared on the stone by itself. It is said that the idol emerged from the sea during the building of Hornby Vellard under colonial rule. Frequented mostly by women during Navratri, the Mahalakshmi Temple is open to people of all faiths.
7. Kaila Devi Temple, Karauli, Rajasthan
View this post on Instagram
The Kaila Devi temple worships the incarnation of the Goddess of wealth, Kaila Devi. She is revered as the tutelary deity of Yadav and Rajput/Kirar/Banjara community rulers of Karauli district of Rajasthan, which is where the temple is located. The foundation of the temple was laid way back in 1723 by Maharaja Gopal Singh Ji and was completed in 1730.
Related: These 5 Famous Temples In India Are Finally Reopening After The Lockdown
Written By