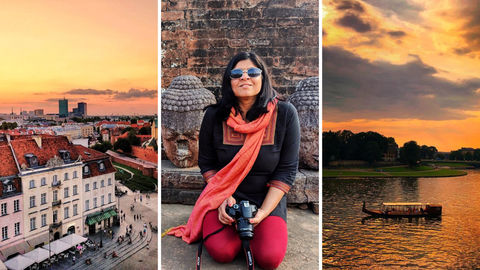 Lakshmi Sharath started her journey back in 2005 with her blog, Travel with Lakshmi . Little did she know that in just about a couple of years she will be a source of inspiration to women travellers across the country. From being into the media industry for good 13 years to taking a leap of faith into the world of travelling — for Lakshmi, the 'journey' was always more than just a metaphor. By Priyanka Chakrabarti
1. What does travelling mean to you?
Travelling
for me is a way of life. I always say that I am a rolling stone who actually gathers moss, in the form of experiences and learning. People make places for me and I am constantly looking for stories wherever I go.
2. How did you start your blog?
I started my blog in 2005 primarily out of curiosity. I always wanted to have my own little space in the big-bold world of the internet and
blogs
had just come up then. I have always been travelling since I was a kid and writing has been a passion since my teens. So, I started the blog primarily to write about my travel stories and experiences and to meet new friends online who shared a similar passion. 3. What kind of traveller are you?
I am a slow traveller. I love stories and I like to linger and discover them. I don't believe that travel is about sights and sounds alone. I can just sit in a square in Europe and watch life pass me by or walk around markets in India and talk to people. I love heritage and
culture
and I am an amateur bird watcher. For me travel is less about FOMO and more about JOMO, nowadays. 4. What is your blogging and photography process?
As a blogger, I look through my notes and decide the story that I want to narrate. Sometimes it's a first person narrative, at other times its a listicle. I don't focus too much on keyword-driven posts and let the content and stories take the lead. For me its always storytelling. Even the photos add to the story. I then pepper the post with one or two relevant keywords. I believe keywords are more about understanding what your audience is looking for, and then I tailor my content without compromising on what I want to say to cater to their needs.
5. Since when did you get interested in travel writing?
I would say since I was in school. But I think, I published my first
travel
writing stories as a teenager in local magazines and then I started writing for newspapers in the late 90s. It slowly progressed towards writing a column for five years and then I have been writing for both print and digital publications besides my blog.
6. You have a big community on Instagram. How do you keep them engaged?
Through stories and content that I think brings the destinations alive. Insta is a very challenging platform and people have a very little attention span. But, I ensure that I have a variety of content. I also focus on writing and not just the pictures. Most importantly, I always keep it real. 7. What does it take to be a travel blogger today?
A lot of hard work, engaging and relevant content, some technical and marketing skills. And of course, travels.
8. How old were you when the travel bug bit you?
My mother always said that I used to have wheels on my feet as a kid and was always restless and running around. I think as a child, I was always fascinated by the stories my widely-travelled grandfathers told me. My parents always took me places during the summer holidays and I looked forward to them. However, I think it was in my teens that I actually got hooked on to travel. My paternal grandfather was a coffee planter and he took his directors on a coffee delegation team to
Australia
, New Zealand and Southeast Asia in the early 90s. I was in college then and he invited me over. It was followed by a trip to Brazil and Costa Rica a few years later. I think the travel bug bit me back then, although, I realised it much later. This was also an India before the internet and mobile phones and everything was so new and overwhelming.
9. How has travelling inspired your creativity? Can you share an anecdote with us?
Travelling has indeed changed me as a person but I don't know about creative skills. I had been in the media and creative field, and eventually, I made a transition to the management side. So, I would think travel helped me shift gears in my career. When I took a sabbatical from media after more than 13 years of working in the industry, it was travel that took me to the next milestone literally. So, the
journey
was more than just a metaphor. 10. Do you remember your first holiday?
Of course. It was always Ooty when I was a kid. My father is an old Lawrencian and every summer holiday we would be in Ooty. If not Ooty, it would be one of the coffee estates of my grandfather's in
Chikmagalur
or Saklespur. And, we used to visit Sringeri every year. So, I have been travelling virtually since I was in the first standard, I would think.
11. What has been your best 2018 holiday?
Japan
. It was one of the best experiences for me. My husband and I were there during the early blossoms but it was the people who really made such an impression on me. I would definitely love to go back.
12. If you could pack only five things for a vacation, what would they be?
Shoes, medicines, my travel diary, mobile and credit card.
13. Do you think solo travelling is more enriching than travelling with a group of people?
Not really. Both have their pros and cons. I have just come back from a trip where I went to
Odisha
with a group of real travellers and they were all strangers to me. A week later, I have made so many friends and it was so enriching. 14. Which are your

favourite

cities around the world?
This is a tough one. The list keeps changing. My current top five are India followed by Japan, Croatia, Denmark and
Australia
.
15. Tell us about your most memorable assignment.
Meeting Roger Federer in Interlaken — that was a personal high. 16. A destination that you want to visit this year?
India has been on my focus this year. I hope to explore the nooks and corners of the country.
17. Who is your favourite travel buddy?
My husband
Sharath
Krishnamurthy. Although we are like chalk and cheese when it comes to us being travellers (he is into scuba diving and
adventures
and I am into culture and heritage), I think we are both slow travellers.
Written By